Matthew Liebman and Daniel Shmul entered their high school years at Cypress Bay in Weston anxious to join as many clubs as they could. Advised by their guidance counselors that getting involved would make for the best high school experience, they joined various clubs but often wound up disappointed.
"All these clubs at Cypress operated the same," Liebman said. "There was no creativity, innovation or passion."
So, Liebman, Shmul and fellow student Juan Salazar decided to provide students with a space to make a difference. Liebman's grandmother told him about work she had done for an organization called Habitat for Humanity, a global non-profit that specializes in housing projects. In 2017, he and co-founders Shmul and Salazar spoke to their school administrators and signed some papers and the Cypress Bay High School Habitat for Humanity Campus Chapter was born.
"You don't start something unless you're intent on doing it well," Shmul said. "We feel our club has a personality of its own and working on Habitat projects is what I love most."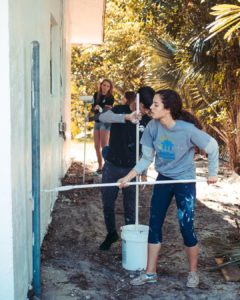 Liebman, who will be attending Florida State University in the fall, and Shmul, who will be attending University of Florida and will be involved in the Gainesville chapter, set out to make the club a success for its members and for the greater community of South Florida. The club, which now boasts more than 450 student members, holds events at their school and around Broward county and focuses on advocating, volunteering, fundraising and educating through partnering with other clubs at Cypress Bay and getting as many students involved as possible.
Working in association with the Broward County chapter of Habitat, students work on buildsites, where they revitalize landscaping, paint the exterior of homes and, if they're over 18, help add the truss and build the frame of the home. The club has worked on four buildsites since October 2018.
"We wanted a fresh new look at Habitat for Humanity, telling the student body that you have the freedom and the platform to do whatever you choose," Liebman said.
An impressive asset the club harnesses is their way of connecting with members through their social media accounts that include quality photo and video content.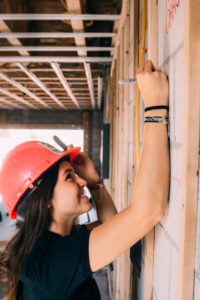 The club has accounts on just about every popular social media site, from Twitter to Facebook and most prominently Instagram, where they have an impressive 2,300 followers. Shmul says they post only original content, photos and videos that feature Cypress Bay students volunteering and giving back to their community. They even feature a "Face of Habitat" every month on their website, which includes a video and social media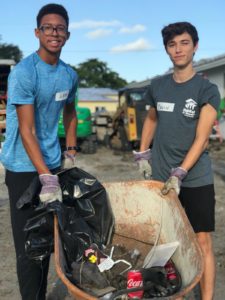 post highlighting the work one outstanding member of the club does.
"Seeing your friends in a picture, that gets you to want to be a part of it as well," Shmul said.
For fundraising, the club sells merchandise like hoodies and t-shirts on their campus and online. The design for the apparel is made by a different member of the club with each new "drop," ensuring that the clothing will cater to what high school students really want to wear.
It's all part of a branding and marketing strategy that Liebman came up with himself.
"Not only is Habitat a world organization but it has the capability to really tap into future generations and get them excited about volunteering," Liebman said.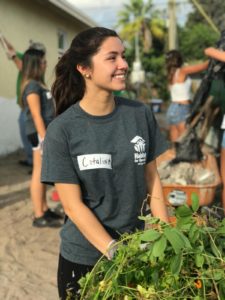 Incoming president of Habitat for Humanity Cypress Bay and participant in the Bank of America Student Leaders internship program Catalina Garcia, 17, said she's excited for what the future holds for the club, specifically focusing on childhood literacy. "We're going to help build a library in a Habitat community and get books donated," Garcia said. "Our school has so many students and they have so many books lying around their house that can be donated."
Liebman and his team know exactly how to tap into what students their age want to see. The secret to their success as an organization stems from knowing exactly how to get students to want to be involved.