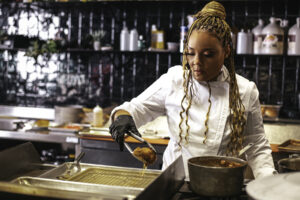 During her years in lifestyle management, she ran multimillion-dollar estate homes in South Florida for rapper/entrepreneur Sean Combs (aka Puff Daddy, P. Diddy, or Diddy) and musician/record producer Timbaland. As a personal chef, she's credited with helping Grammy-nominated rap artist Rick Ross shed 80 pounds. And regulars at her first Miami restaurant, South Street, included Martha Stewart, Lenny Kravitz and Lebron James.
But A-list connections aren't the only reason that Amaris Jones is a celebrity in her own right.
Now a full-time chef and restaurateur, Jones (who's in her "mid-40s") has added to an already prodigious culinary/hospitality/entrepreneurial résumé with her latest kitchen venture—Chick'n Jones at Time Out Market Miami. The fried chicken restaurant, drawing raves along Miami Beach, is a showcase for Jones' ability to elevate even the simplest soul food dish to gourmet heights.
It's also another full-circle chapter in her remarkable career. Born in the outskirts of Philadelphia, Jones was thrust into the world of food before she could even walk.
"My father had one of the first Black storefront churches on South Street in Philly, and I remember watching the women cook these fabulous dinners in the basement of the church," she says. "My mother was also an avid cook, so between home and the church, I was surrounded by food."
As a young girl, some of Jones' fondest memories are with her father, traveling across the United States as he attended church conferences and speaking engagements. "I was always inspired by the food we would eat on those trips," she says. "I remember having blue corn grits for the first time in North Carolina, up in the Blue Ridge Mountains. Then there were the times we would travel to Texas and eat some of the best barbecue. I even remember being in Ohio and peeling live shrimp. If I think about it, I can still smell it."
Though Jones was influenced by her experiences with food, she never pictured her passion as a career. In college, Jones felt that a creative major—radio, television, and film—would help open the door to another of her interests: lifestyle entertainment. But after graduating from Lincoln University in Pennsylvania, Jones switched gears once again—this time, as a real estate professional.
"I fell into property management at 22," she says. "I had no idea what I was doing, but I loved it." From there, she started selling real estate, managing buildings, and meeting as many people as possible. One of those contacts was the president of Sean Combs' now-shuttered restaurant chain, Justin's.
"To make a very long story short, he called me one day, some years later, and asked if I would be interested in managing Sean Combs' new estate home in Miami Beach," she explains.
She soon met other celebrities interested in hiring her to manage their properties, including Timbaland and former Miami Heat star Chris Bosh (and his wife, Adrienne). That led to the creation of Elite Home and Lifestyle Management in 2004, a business that, as the name suggests, provided clients with a variety of services—including event production, brand placements, strategic partnership development, and domestic staffing.
"Beyond the day-to-day management, what I quickly realized is their friends would come into town and ask me where to go and what to do," she explains. "I felt like a personal concierge, which is what drove me to launch my own company."
In between working for Combs and Timbaland, Jones turned her attention to another question she was often asked: Where in Miami can I go for the best soul food and live music?
"At the time, there weren't many options; the exception was Jackson's Soul Food, but the restaurant closed in the early afternoon," she says. "So, I started having people over to my house, cooking them soul food and playing music."
For months, friends encouraged Jones to open her own restaurant—and, in 2012, she finally did. In addition to managing celebrity properties through her company, Jones debuted South Street—named after her father's church—in the Miami Design District, where she transformed her family's age-old soul food recipes into a full-fledged menu. Her crispy fried chicken, mac and cheese, and sweet potato pie, coupled with live music, attracted a rotating list of celebrities (Lenny Kravitz), athletes (Lebron James), and local VIPs. Rap musician French Montana also frequented the restaurant, often ordering takeout for his friend, Rick Ross.
"It wasn't long after that I got the call from Ross' team about becoming his personal chef," she says. Responsible for cooking healthy meals for breakfast, lunch and dinner, she helped Ross drop 80 pounds.
After she closed South Street and concluded her time with Ross, Jones kept busy with lifestyle management, personal chef opportunities, and soul food pop-ups at private estate mansions and high-profile Miami venues, including Soho Beach House and the Forge. She also was selected as the first American chef to participate in the Food for Diplomacy program by the Hollings Center; Jones flew to Istanbul, Turkey, to teach a class on the history of soul food and curate a dinner for global diplomats at Kadir Has University.
"Throughout this time, I kept thinking how there wasn't an elevated fried chicken restaurant in Miami," she says. "It was always something in the back of my head."
Fast forward to the week leading up to the COVID-19 pandemic in mid-March 2020. Jones was just days away from committing to a space inside the Citadel food hall in Miami's MiMo neighborhood, where she planned to launch the first iteration of her modern soul food restaurant, Chick'n Jones.
"Once the pandemic hit, I didn't want to risk it and sign a lease," she says. "So, I took that as my cue to wait." Months later, Jones ultimately signed a six-month lease for Chick'n Jones at Time Out Market Miami in South Beach. It debuted in July.
One bite of her signature hot-honey crispy chicken sandwich topped with southern slaw, and you'll understand how she's hooked some of the biggest celebrities in the world with her cooking. Other menu highlights include spiced loaded fries, chicken and waffles, and grilled green tomatoes finished off with crispy shallots.
As for what's next, Jones says she's just getting started.
"The goal is to open Chick'n Jones all over the country and the world with a group of investors," she says. "Right now, it's all about proving the concept."
Photos by James Woodley