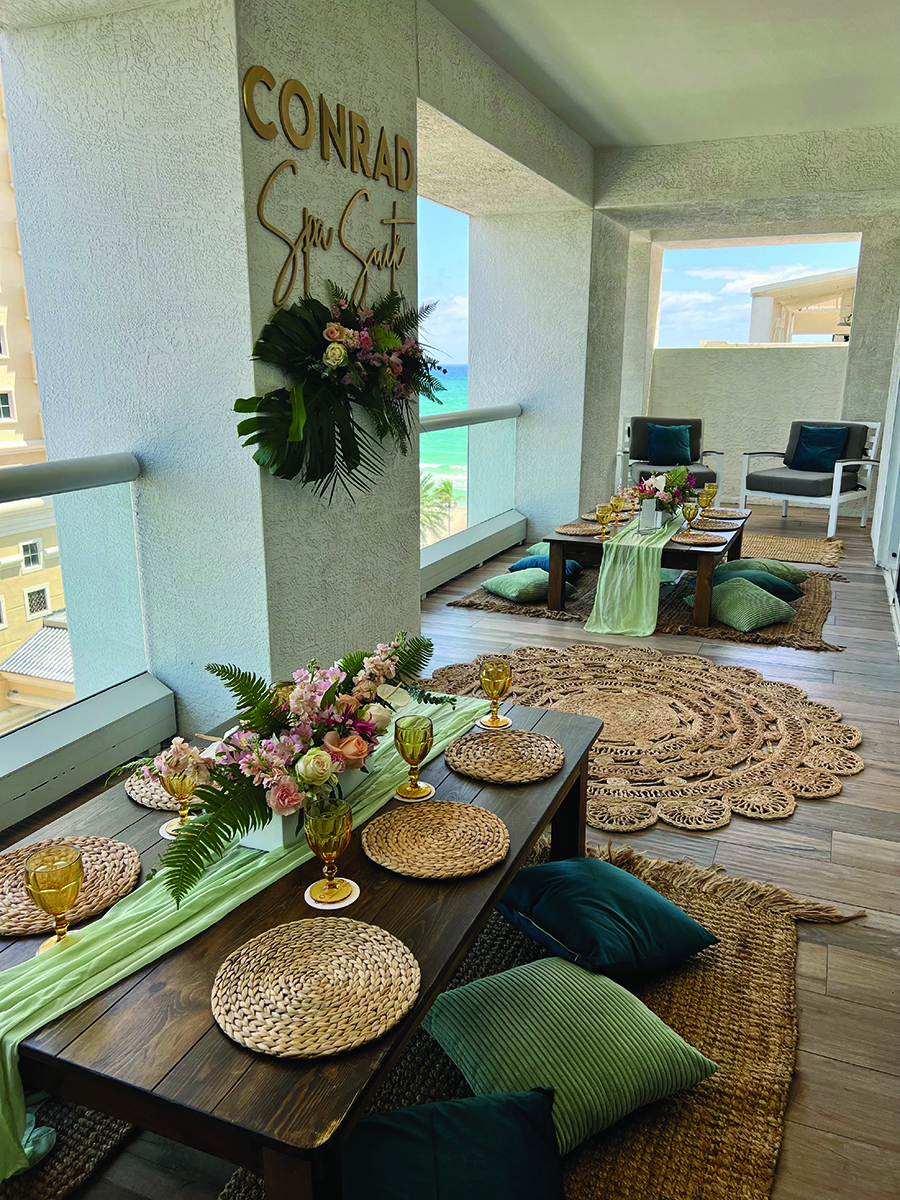 How Suite It Is
The Conrad delivers an intimate boutique spa experience—with room to take group pampering to another level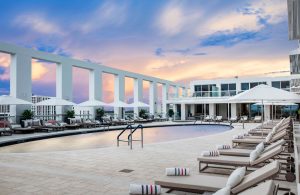 Rejuvenation doesn't have to be packaged in expansive settings with dozens of treatment rooms to be effective. Sometimes, less is more—especially when it's served up with the expertise, originality and attention to detail delivered at Conrad Spa.
What the pampering space inside Conrad Fort Lauderdale Beach lacks in overall square footage (there are only a handful of treatment rooms), it makes up for with an array of well-conceived experiences that stir the senses, refresh the body and nourish the spirit. In addition, the spa inside the oceanfront resort of the same name takes pampering to a private sixth-floor room thanks to the recently introduced Conrad Spa Suite.
Perfect for groups of up to six people (think bachelor or bachelorette parties, a weekend with the girls, couples getaways), the multiroom space with a balcony view of the Atlantic can accommodate as many as three treatment tables at a time. Thanks to a partnership with The Pretty Picnic, the suites can be decked out in custom décor that matches your intended vibe (complete with flowers, pillows, rugs and accent pieces).
Participants can choose from four different spa experiences: The Moët and Chandon includes requisite pours of that bubbly brand; the Journey through South Florida includes fragrances and bites that speak to our backyard; the Florida Escape embraces tropical fragrances and decadent sweets; and the Man Cave, complete with a tailgate-inspired menu, gives the guys a reason to sneak away. There are two treatment options—an 80-minute signature experience, or a massage and facial combo that's split over 100 minutes.
Better still, the Spa Suite is only a warm basalt stone's throw away from the resort's famed Sky Deck and Spinnaker Pool Grill, also on the sixth floor. Optional add-ons include access to a poolside cabana, daybed or VIP lounge, as well as a full dining menu (with curated cocktails and spirits). Base price starts at $525 a person and includes a bottle of Prosecco and a Conrad Spa gift.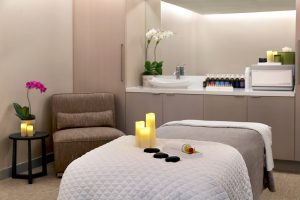 Spotlight treatment: The all-encompassing Sea Spa Escape on the regular treatment menu ranks as one of the most popular offerings at the Conrad—and it's easy to see why. Customers are invited first to select an infused body lotion from Pure Fiji (try the moringa infusion with notes of mulberry, mandarin, vanilla and honeysuckle) for use during the massage. However, the experience begins with a dry brushing to remove dead cells and activate the lymphatic system; the light brush bristles stimulate the skin without shocking it, allowing the brain to ease into the ensuring massage.
After working on your back, one of Conrad's experienced spa technicians (quick suggestion: ask for Vanessa) will exfoliate your calves and feet with a salt scrub that includes an invigorating touch of peppermint. Your legs and feet are then wrapped in warm towels and covered with a blanket, sealing in a tingly sensation during your front-body massage.
As that portion of the massage nears its conclusion, a seaweed facial mask hydrates the skin over the final 15 minutes. When the wrap is removed, the session concludes with cooling lotion on the face—and a gentle scalp massage. It's 80 minutes of sheer bliss.
Other spa highlights: Signature treatments on the tightly curated spa menu include state-of-the-art HydraFacial technology (50- and 80-minute sessions) that is said to cleanse, exfoliate and hydrate through serums brimming with antioxidants, peptides and hyaluronic acid. … The Mineral Salt & Seaweed Body Exfoliation (80 minutes) combines Dead Sea salts, aloe, peppermint and hydrating seaweed as part of an experience that incorporates compression massage and the use of aromatherapy-infused towels to blanket the body. … The Calming Seas Soothing Facial (50 and 80 minutes)—good for treating sunburn, rosacea and eczema—makes use of pure microsilvers and their antimicrobial, antiseptic and anti-inflammatory properties. … Speaking of warm Basalt stones, the polished rocks take center stage in a body contour treatment that further smooths the skin through a blend of seaweeds infused with herbs and caffeine. … The SoFlo Experience (50 and 80 minutes) heightens the traditional massage by borrowing from Eastern and Western traditions to ease tension and improve circulation. … New and expecting moms will appreciate the Cradle (50 and 80 minutes), an aromatherapy pressure point massage that relaxes stiff backs and tight shoulders; the longer version includes a seaweed facial mask and scalp massage. … Ask about the monthly specials at the spa. In July, deals include discount pricing on the Sea Spray Hydrating Facial ($196 instead of $245) and the aforementioned Mineral Salt & Seaweed Scrub ($208 instead of $260).
Contact: Conrad Fort Lauderdale Beach, 551 N. Fort Lauderdale Beach Blvd.; 954.414.5108; conradfortlauderdale.com/revive/spa