It is widely acknowledged that receiving commendation from Simon Cowell is a tough challenge. As an entertainment industry impresario and TV personality, the English-born Cowell established the blueprint for the ubiquitous "blunt truth teller" in pop culture. Therefore, his recent collaboration with Harry Blu's spirits, conceived and developed by Miami's Harry Blustein, carries immense importance.
"We couldn't be prouder to have Simon onboard as a partner," Blustein says, a self-proclaimed "serial entrepreneur" and spirits geek who started the brand in 2019. "To say he has 'discerning tastes' is putting it lightly. To get his stamp of approval and have him join the HARRY BLU'S® family means the world to us and with his help, we're ready to introduce our fine spirits to a wider audience."
Each bottle of Harry Blu's reads "Talented enough on the rocks or with your favorite cocktail," so the brand finds it fitting to partner with Simon's larger-than-life personality and international profile.
"We're blessed to have met Simon and have his support and are excited about what the future holds," Blustein says.
Harry Blu's can be purchased nationally and internationally through its website or at various retailers across Florida, such as ABC Fine Wine & Spirits, Total Wines & More, and other independent shops. The brand has big plans for future growth, partly thanks to Cowell's expertise in building successful brands, keen business acumen, global influence, and a strong commitment to delivering exceptional quality. These plans include expanding their product line beyond gin and vodka and entering new markets outside Florida.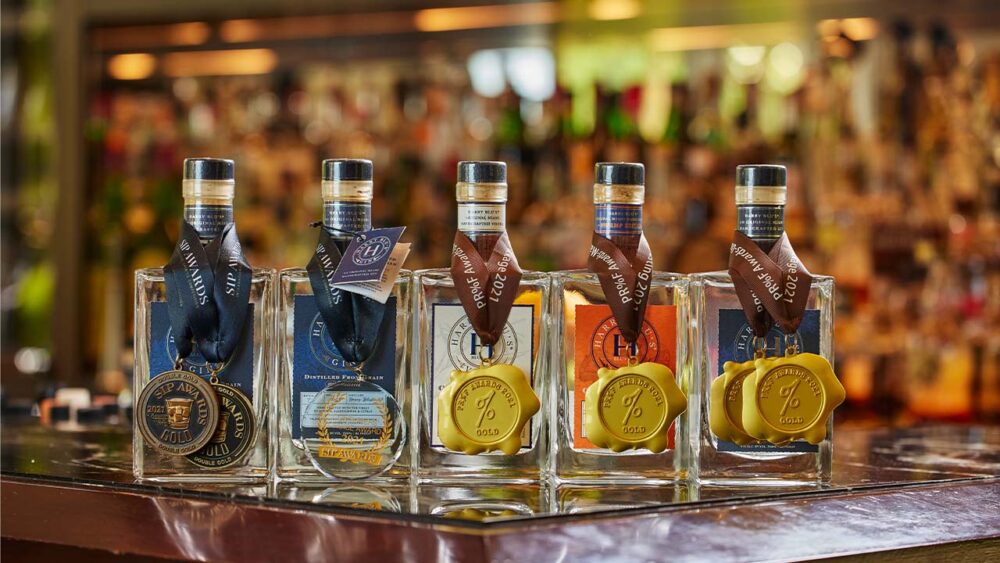 "I was thrilled when I was asked if I would like to join the Harry Blu brand," Simon says. "The sheer number of awards they have won is a testament to the quality of their product. They are an incredibly dedicated small team with great taste and passion that has built their business. I am excited to be part of the next phase of their growth."
The liquor brand has steadily gained traction in Florida since its launch in 2019. The brainchild of its founder, Harry Blustein, the brand's original gin quickly garnered attention and acclaim, leading to the introduction of vodka and a botanical vodka in 2021. It has already made a name for itself in some of Miami's most popular bars and restaurants, such as LPM Restaurant and Bar and LEKU. The brand has also received numerous awards and accolades, including multiple SIP awards in 2020 and 2021 and a coveted "Double Gold" from The FIFTY Best.
"I'm not a mixologist, nor do I pretend to be a master distiller," Blustein says. "But I know quality, and I know flavor and the gin we make is as flavorful, complex, and as enticing as this city itself."