The latest addition to the Fort Lauderdale dining scene will undoubtedly make a memorable impression on diners looking to combine fine Greek dining with an unbeatable view of the famous Fort Lauderdale Intracoastal. Olive & Sea opened this month with 156 indoor and outdoor waterfront seats, including a 14-seat bar facing the Intracoastal against floor-to-ceiling windows, providing guests with an ideal view of people and yacht-watching.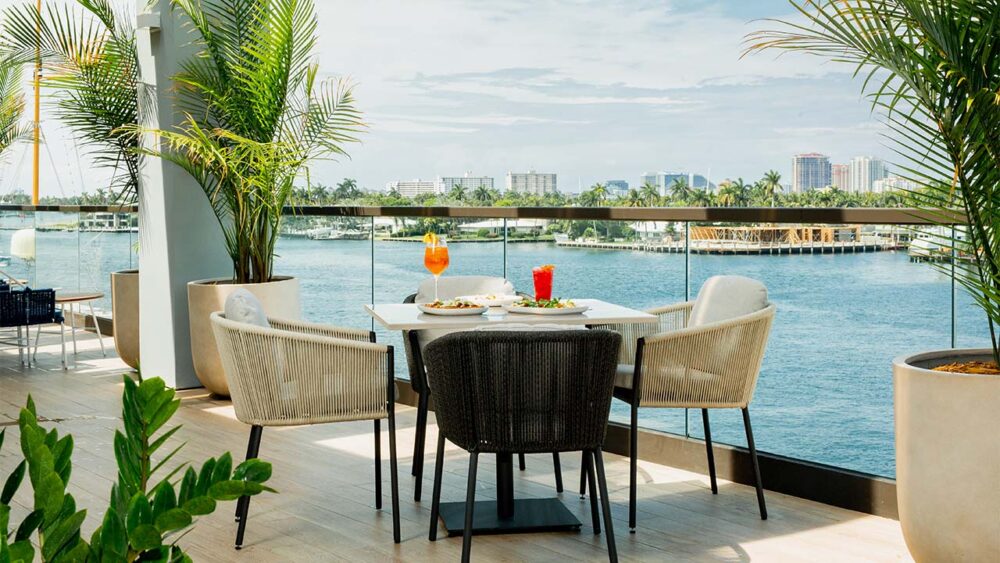 If more than the view is needed, where the restaurant truly shines is its Greek meze offerings. For those unfamiliar, Greek meze offers a variety of bread and dipping sauces designed for sharing (basically Greek tapas). Olive & Sea's take on the traditional appetizer is highlighted by freshly baked pita and house bread with various savory sauces for dipping, including baba ghanoush, red pepper relish, hummus and tzatziki.
Olive & Sea also specializes in family-style meals to further elevate its Mediterranean cuisine. The Mediterranean-inspired menu offers signature lunch and dinner items, including locally sourced daily seafood specials, including branzino al ha'esh and grilled gulf snapper. Other menu options include pizza served on freshly baked laffa bread crust and skewers served with spiced tomato sauce, tehina and coriander-chili relish.
Of course, the Greek meze offerings would only be complete with refreshing cocktails, and Olive & Sea offers a wide variety of carefully crafted fusion cocktails. One of its signature drinks is the Espresso Martini, prepared with in-house Turkish Coffee, liqueur 43 and Ketel One Vodka.
Diners looking for more than just fantastic food and creative cocktails can get their fix with Olive & Sea's 17th Street Causeway location, ideally suited for guests enjoying Fort Lauderdale's vast waterways while experiencing an expertly blended Greek menu.
Olive & Sea is open seven days a week, serving lunch from 11 a.m. to 3 p.m., Happy Hour from 3 p.m. to 6 p.m. Tuesday through Saturday and dinner service from 5 p.m. to 10 p.m. Brunch will kick off Labor Day weekend hosted each Saturday and Sunday from 11 a.m. to 3 p.m. For reservations, call 954-527-6716 or email [email protected]. Complimentary valet parking is available. For more information, visit Oliveandseaftl.com.
Photo Credit: Kenneth Smith