When you joined Styx in 1999, you had a significant following in Canada as a solo artist. Was it a difficult decision to give that up for a globally renowned band that had a complicated recent history?
On the one hand, you're knocked out and flattered by the honor of joining a band with a legacy like the one Styx has. That part was easy. But, yes, back then I had four platinum records, three gold records and a gold single. In Canada, there were a lot of people who said, "Don't do it," when I announced I was going to Styx.
But let's go back to 1998. I remember my publicist in England saying, "Here's what's going to happen in your career. There are so many bands—Genesis, Queen and others—that are going to need new people in order to continue. It's the natural evolution of the business."
At first, I was resistant because, in my mind, I was a solo artist. But she said, "You can still be that—and also be part of a band."
So, every year now I play about 100 Styx shows—and I still play 15 to 20 solo shows when I go back home to Canada. I can balance between the two in a way that works for me. I feel fortunate that I listened to her.
Was it difficult for you to thread the needle between establishing your own identity in Styx and taking on a role that a founding member had played for so long?
I really have to credit that to J.Y. and Tommy. They never once asked me to do any kind of "impression" [of Dennis DeYoung]. The word "replace" never has been part of the band's vocabulary. That era of the band had come to a close.
All the stuff that I do on stage, like my spinning piano, they wanted. I think they wanted the spinning piano more than me, actually. [Gowan laughs.] But it set me very much at ease to know that this was about extending the spirit of Styx.
I'm looking out my hotel window now at the Mirage in Las Vegas, and there's the sign for "The Beatles Love" Cirque du Soleil show. The spirit of the Beatles is still very much alive, and it's beyond the four members of the band.
When I joined Styx, whatever the spirit of the band was, it hadn't been upset [by DeYoung's departure] to the point of being irreparable. It was [just] time for a new chapter.
Have you ever had a conversation with another musician who replaced an original band member of a storied band and compared notes?
I have observed bands that had to go through transitions with new members. I've seen ones that work the best and ones that fall flat.
Six years ago, I saw The Rolling Stones in concert. I had great seats up front. They had a catwalk setup, and Keith Richards walks out first, followed by Mick Jagger, and then Ronnie Wood. And I remember thinking, Ronnie Wood is every bit as much a Rolling Stone as the first two guys who walked past me. He fits into this band so perfectly. And, yet, he's the third guitarist in that role. He's not even the second. But it just feels like he's always been there.
That's what I've tried to bear in mind. What needs to survive intact is whatever the spirit of that band is. The only thing I can use to support my belief is the fact that I've been with Styx for 23 years now—and the band just celebrated its 50th anniversary. For a band to survive that long, they must've made some good decisions along the way.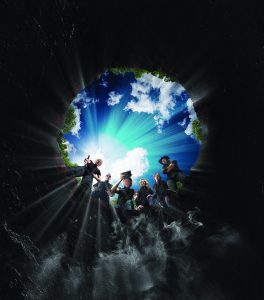 There are a few bands, like Styx and Journey and REO Speedwagon, who've toured consistently and successfully long after the height of their original run. Being so versed in this catalog now, what it is about Styx that connects so strongly after all these years?
I'll start with a J.Y. Young quote. He always says that there's an embarrassment of riches when it comes to the songs. He goes through it every night trying to put a set list together.
But there's still luck involved. Like, when I joined the band in 1999, Adam Sandler released the movie Big Daddy—which had Styx's "Babe" as part of the soundtrack. That same year, Volkswagen did a commercial that featured the song "Mr. Roboto." [Note: A year earlier, the animated TV show South Park did an episode with "Come Sail Away" as a plot point.]
Suddenly, there's a renewed awareness about the band. Prior to that, Styx had gone through a long lull. So, we [capitalized] on this buzz by touring and getting the name back out there. That was the mandate when I joined. Let's go play 100 shows a year and get folks talking about this band again.
And people were curious. They couldn't see Led Zeppelin anymore. Queen wasn't touring at the time. Let's see what going on with Styx. And they'd get hooked. Because, once you pull the lid off you realize that it's a deep well. And the live shows live up to that.
A few years back, Styx opened for Def Leppard shortly after David Bowie died. You did a little mid-set tribute. Was Bowie an influence on you?
Very much so. He had such a wide palette. At a certain point, you can leave behind the pop interests. Bowie gave us the long arc. How interesting for people discover different eras of the artist. His chameleon-like way fascinated me; you were always interested in what he was going to do next. He'd never repeat what he did in the past. I also loved the more cerebral type of rock that [Bowie could deliver]. We have similar interests. I love anything that's conceptually connected to space and alien life and strangeness. All these things are very captivating to me.
Styx had a hit with The Beatles' "I Am the Walrus," which was on an album of cover songs (Big Bang Theory) in 2005. But there's more to that song's journey with Styx, going back to your early days, correct?
Fortunately, way back in the 1970s, the band that I had was very adventurous. We'd put unusual covers into our club shows. We performed "Bohemian Rhapsody" by Queen, which no bar band would dare touch. And that opened the door to classical influences and things that had nothing to do with the punk and disco era of the times. "I Am the Walrus," is one of the songs that band learned.
When I first started with Styx, I'd play "I Am the Walrus" as part of my warmup. So, flash to 2004. We're playing the Crossroads Festival [founded by Eric Clapton] in Dallas. The night before, J.Y. tells me he wants to do "I Am the Walrus" at the festival. Everybody was going to be playing blues songs; he wanted us to play something that people wouldn't expect from Styx.
The next day during soundcheck, we figured out how to approach it—like with guitars doing the cello parts—we rehearsed the song, and we decided to give it a shot that night.
Billy Preston happened to be at that performance [the keyboardist who famously contributed to several songs on the Beatles' Let It Be album]. He also was playing at Crossroads. He watched the whole song from just off the stage. When I came off, he goes, "That was great! I loved hearing that again!"
That festival was broadcast live, and after the show the local radio station was getting requests for the live version of "Walrus." That [buzz] led to Styx doing the Big Bang Theory album.
A few years later, Billy Preston took the stage with Styx. We played The Beatles' "Get Back" and Billy's No. 1 hit, "Will It Go Round in Circles"—and it all started from the "Walrus" cover we did in Texas.
Styx/REO in Concert
When: June 19
Where: iThink Financial Amphitheatre, West Palm Beach
What: Styx co-headlines an evening of classic rock that includes two other bands from the 1970s and '80s with multiplatinum-selling albums—REO Speedwagon and Loverboy.
Tickets: livenation.com