Kids Live and Learn at SOS Children's Villages-Florida
By Elyssa Schwartz
At age 13, Juliana* received her first A on a school assignment. After earning Cs and Ds throughout elementary school, she was elated. A sixth grader at the time, the achievement came after just recently learning how to read. Thanks to her tutor and mentor at SOS Children's Villages-Florida, she's upheld her grades ever since.
"I never in my life got As or Bs," she says. "I was so happy when I got my paper. I showed Ms. Sandi (houseparent) and Ms. Rainy (residential staff member), and they were so excited for me."
But SOS isn't just a place where kids go to learn; it's where they go to live. The village is a foster-care neighborhood in Coconut Creek. Virtually incognito, the tree-lined neighborhood appears as any other in the area, composed of 13 houses with a community center and a basketball court. Home to nearly 75 boys and girls, the village provides a safe and nurturing environment to help give them a stable childhood. It also offers services to those who have been removed from their homes and families because of abandonment, abuse and neglect.
Juliana was placed in the village nine months ago with her younger brother, who she continues to see every day.
"She was taking care of her brothers and sisters and wasn't focusing on education," says Vickie Walter, communications and community relations director. "She cried last month because she knew how to read. That's really what we're here for—to get them into school and empower them by giving them the tools."
During the past eight years, 100 percent of the village's kids earned high school diplomas or GED certifications, and 65 percent of them are currently continuing their education. Thirty percent of the alumni work full time, and none of the village's alumni is homeless. Alumni stay connected with the village through its Next Steps program.
"They still come to events and activities," Walter says, referring to its annual Thanksgiving celebration in Heron Bay in particular. "We know their kids and their kids know us. It really is about family and consistency. We want to empower the kids to not only envision that future, but literally to live it when they leave."
Before Juliana traveled to New York earlier this summer for sleep-away camp—a sponsored opportunity donated to the village for exceptional children—Life met with her to talk about her progress and see how living in the village has changed her life for the better.
What's your favorite part about living in SOS Children's Villages-Florida? We have events, and we can play and see other people. Today, we went to the community center and listened to music and did art stuff. Then, we went to the field to play games and a group from the (Miami) Marlins (baseball team) came. Even if I don't have my family, this is like a second family because they care about me. I go to school and one day I'm going to graduate and go to college. They help me even if I don't have my mom or my older brother in my life.
What are your friends like in the village? We like to talk to each other, and I'm always with them. I tell my secrets to them. We don't separate—even if we have different classes or we're not in the same grade in school.
Living in a house with up to six kids probably becomes pretty messy at times. Do you have any chores? I mop every night. The rest of the girls do the dishes and the table or they sweep. Sometimes when we finish, we get our dessert—everybody likes that part. We get candy or sometimes Popsicles.
What do you eat for dinner at the house? Fish and rice with chicken and beans—that's what Ms. Rainy makes. Sometimes I help.
What's your favorite book? Curious George.
What are you doing this summer? I'm going to camp (a local day camp). After, I'm going to New York to go to camp for three weeks. I'm sort of scared. I get to go on an airplane; it's my first time. I'm going with three other people from here.
What are you looking forward to most about seventh grade? Meeting new people, the teachers and learning more.
What do you like to learn about? History. I usually learn more about wars and I'm mostly interested in World War II. When I learned about it, I was so happy because I could understand.
What do you want to do when you grow up? I want to go to the Army because I want to help other people. I want to see the whole world and save people's lives. I want to see different states and different countries.
What makes you feel good? Art. I do art or I listen to music. (Her favorite genre is pop.) I like to do face art and decorate. I paint peoples' faces and I'll do shapes or flags. (Walter adds, "She helped paint the school supply and toy shed in the neighborhood.") ?
* Juliana's name was changed for this story to protect the identity of a child living in SOS Children's Villages-Florida.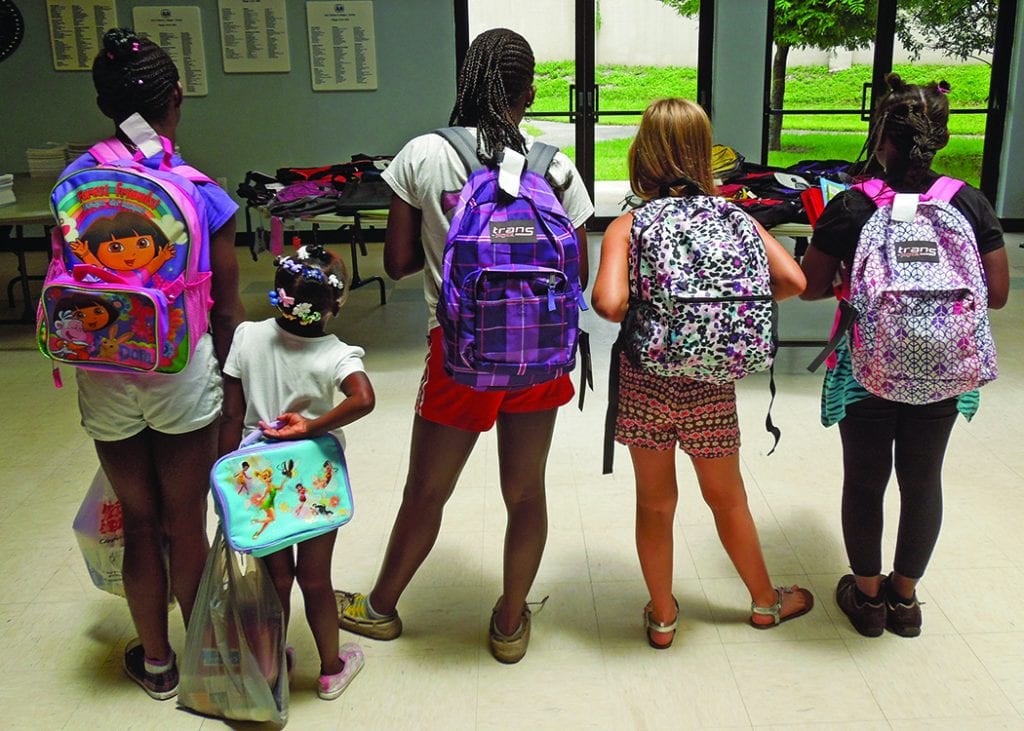 DONATE TODAY
Did you know that a third of the kids living in SOS Children's Villages-Florida have a GPA of 3.0 or better? You can help these students get back to school with donations of the following supplies, through Aug. 17:
JanSport backpacks

College and wide-ruled paper

Graph paper

No. 2 pencils

Mechanical pencils

Colored pencils

Markers

Dry-erase markers

Highlighters

Pens (black, blue and red)

2-inch binders

Notebook dividers

Spiral notebooks (one-, three- and five-subject)

Composition notebooks

Pocket folders with prongs

Construction paper

Glue sticks

Crayons

Index cards

Tri-fold project boards

Poster board

Earphones

USB flash drives

Regular calculators

Scientific calculators

Hand sanitizer

Tissues

Gallon zip-top bags
To schedule a delivery, contact Genevieve at 954.420.5030 or [email protected]. For more information, visit sosflorida.com