Cesar Zapata
Chef at: Phuc Yea (7100 Biscayne Blvd., Miami)
SOBEWFF Event (sobewff.org): Chicken Coupe, hosted by Michelle Bernstein; Feb. 25 at Jungle Plaza in Miami Design District. More than a dozen chefs will serve up their best fried chicken, along with homestyle sides and dessert. Six high-end Champagne houses also will be on hand with bottles of bubbly.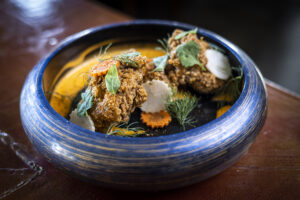 The Dish: Viet-Cajun fried chicken with sriracha aioli, lemongrass, Cajun spice and house pickles. "This is one of our signature dishes at Phuc Yea, and it really stands out to me because it showcases both of my favorite flavor profiles/cuisines—Vietnamese and Cajun. Once you bite into the tender chicken you immediately experience a rush of sweet, sour, spicy, bitter and crispy flavors."
About Cesar: The native of Medellín, Colombia's culinary journey began in earnest at Art Institute Houston, where he was exposed not only to regional barbecue and Mexican dishes but to the city's robust Asian restaurant scene. Along with partner Ani Meinhold, Zapata launched Phuc Yea as Miami's first pop-up concept in 2011. Five years later, the brick-and-mortar version opened in the MiMo district, where the modern Vietnamese mash-up remains as popular as ever.
Much-Deserved Honor: Last year, Phuc Yea earned Michelin's Bib Gourmand award as a restaurant with world-class cuisine as reasonable prices. Zapata calls it the "most pivotal moment in my chef journey … it's something I've always dreamed of."
Fish Tales: Zapata calls the black cod at Phuc Yea his dish of the moment. "Cod is one of my favorite fish to eat and cook because it's so flaky, buttery, delicate and delicious," he says. "At Phuc Yea, we marinate the cod for 24 hours in a house char siu [Chinese barbecue] sauce. We then cook it in a cast-iron skillet until golden brown; it's served with nuoc cham [dipping sauce], garlic, fresh Thai bird chilies and fresh herbs."
Kitchen Evolution: "When I was a young chef I constantly would overthink and overcomplicate. Now, I cook from my heart and I only cook the things that I love. Simplicity has become an enormous component of my current style of cooking."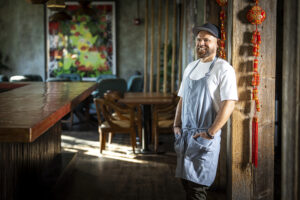 Festival Feelings: "If there is one thing most chefs can agree on it's that food brings people together," Zapata says. "SOBEWFF does precisely that. I love that participating in the festival means we are given the opportunity to cook alongside a diverse group of talented chefs and serve great food to the community that we love."
On the Horizon: "Currently, we are working on creating a lounge in the lobby of the restaurant for people to drink and listen to music played on vinyl. As for the Mad Phucs brand as a whole, we just opened a stand at the FTX Arena. We're continuing to raise awareness through the charities I'm involved with, including No Kid Hungry and Humans Who Feed Us."
Contact: 7100 Biscayne Blvd., Miami; phucyea.com
Photography by Eduardo Schneider