There are 12 rooms inside Royal Blues Hotel in Deerfield Beach, but there's another penthouse with ocean views that is never rented to guests. Penthouse I is reserved for the property's owner, Hollywood producer Edward Walson, who had intentions of building a private property on the land but opted to share his love of the finer things in life with a select clientele.
The Royal Blues and its Chanson Restaurant have the designation of being the first Relais & Chateaux hotel in Florida, part of only about 500, high-end boutique hotels and gourmet restaurants in the world. What does that mean? The criteria are stringent and have to pass R&C's five C's: character, calm, charm, courtesy and cuisine.
Regarding this cuisine, Chanson is more than fine dining—it's refined dining. This is a place where a long-tapered candle isn't lit until guests are seated, where napkins bear tags from Frette (maker of exquisite French linens), and where Badoit, the renowned French sparkling bottled water, is chilled in a Champagne bucket next to the table.
Executive chef Michael Schultz—who, for almost a decade, was the private chef to "The Sixth Sense" writer and director M. Night Shyamalan—focuses on food that is organic and sustainable, and creating it with sophisticated flair.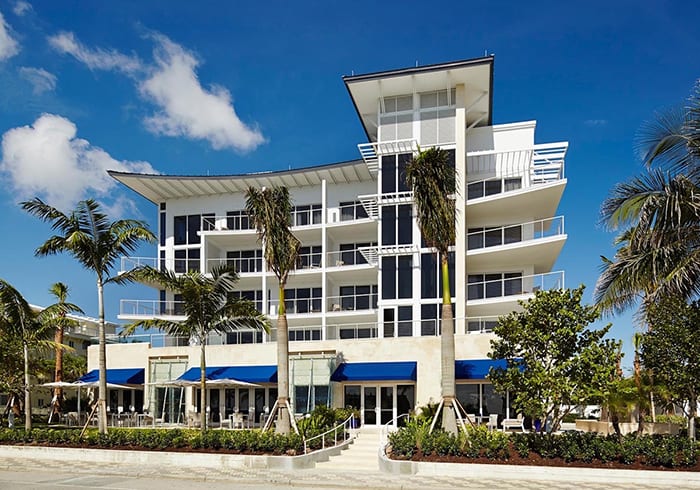 Schultz is chummy when he mentions "Night," talking about multimillion-dollar deals being brokered over farm-to-table dinners he created at the director's sprawling country estate outside of Philadelphia.
It's much the same relationship Schultz has with Walson. They share the same mission for the intimate restaurant—to create a Le Bernardin-style spot in South Florida. (Le Bernardin is New York's shrine to sophisticated food and often mentioned among the world's best.)
The staff says Walson has plenty of input into his restaurant, and you can frequently find him dining there when he's in town. In fact, Walson is in the process of buying a farm about 20 miles west of the restaurant, where only organic vegetables and fruits will be grown just for Chanson.
A tasting menu Schultz created for the evening started with fresh ceviche. When the chef wanted to learn authentic preparation of ceviche three years ago, he went to the Miraflores district in Lima, Peru—the place to train in the art of creating the mixed-seafood dish. On this particular evening, he had found the freshest Key West yellowtail, enhancing it with a lime marinade, allowing it to burst with flavor and an authentic Florida flair.
Krystal Kinney is Chanson's sommelier, and her wine selections are as particularly perfect as the food. The 800-bottle collection is mostly composed of organic wines. When I inquired about what I thought was an incredible French rosé she had paired with my second course, Kinney said it was an Oregonian "orange," despite its pink appearance. The wine is made from grapes, not oranges. It requires an elaborate production process, so it is in short supply.
It's just one of many delightful finds at Chanson. The wine was served with scallops, which were superb, but even more delectable were the curried lentils underneath, with fresh watercress, chanterelle mushrooms and caramelized pistachios.
Next up was Schultz's upscale riff on downhome shrimp and grits, a coconut-butter poached spiny lobster atop organic grits. For the main course: an intensely marbled Wagyu beef served medium rare, with small heirloom potatoes and black mustard made from scratch.
A deconstructed dessert was inspired by Key lime pie—an olive oil sponge cake with lime mousse and berries alongside passion fruit sorbet. A graham cracker, usually used as pie crust, sat away from the cake itself and was meant for dipping.
Kinney offered another surprise—a dessert wine from Oregon. Dessert wines can be too sweet for some palates, but this soft Pinot Noir, certified organic, was the perfect accompaniment.
Leaving the restaurant, I noticed something I hadn't seen on the way in, despite its size—a 1,500-gallon saltwater aquarium mounted in the restaurant's ceiling. The aquarium's edges connect to the terrace pool outside, so swimmers can dive underwater to get a look at the fish in the tank up close.
Chanson and the Royal Blues Hotel—a Deerfield Beach gem chock-full of exquisite surprises.
Chanson Restaurant
Where: 45 NE 21st Ave., Deerfield Beach
Hours: Breakfast and lunch daily, 8 a.m. to 3 p.m.; dinner Tuesday to Saturday, 5:30 to 9:30 p.m.
Contact: 954.857.2929; royalblueshotel.com/chanson_restaurant
A second spot is planned on Atlantic Boulevard, west of Dixie Highway in Pompano. The menu and vibe will be more along the lines of a casual gastropub.
Contact: 754.205.6977; thefoundryfl.com