The iconic bar nestled within The Ritz-Carlton Coconut Grove, Miami, known as The Commodore, has recently launched an exciting new cocktail program. Developed in collaboration with renowned master mixologist Ingi Sigurdsson, this program promises to take guests on a flavor, artistry and indulgence journey. The Commodore is famous for its casual luxury and tropical-inspired sophistication, and this new program aims to elevate craft cocktails to an art form. Along with the new cocktail program, The Commodore has unveiled a new bar bites menu that perfectly complements the creative cocktails. This menu features a delectable array of culinary creations that will tantalize guests' taste buds.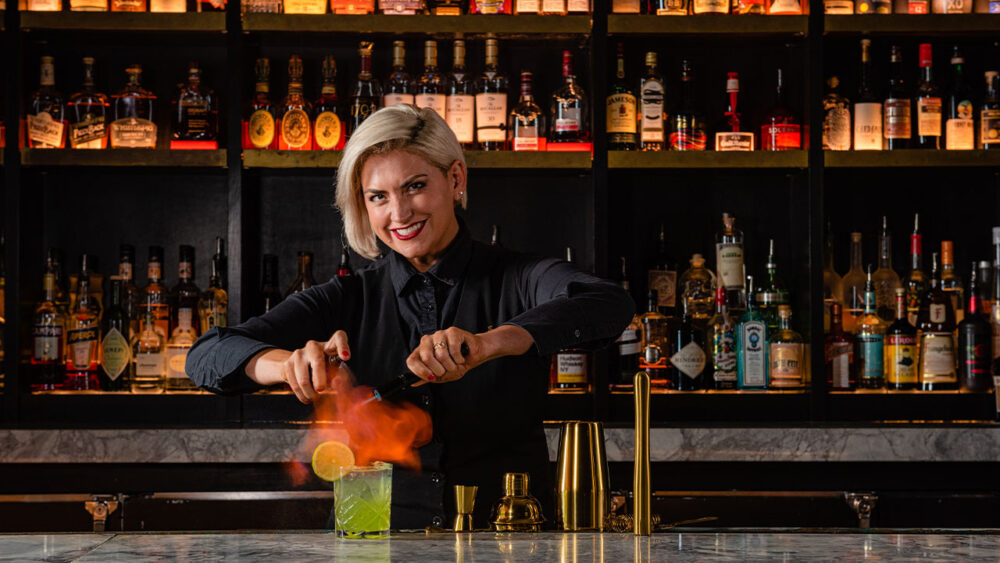 The glowed-up cocktail program at The Commodore is the brainchild of Sirgurdsson, a highly talented cocktail craftsman with an impressive track record in the industry. Having previously served as bar director at the award-winning Chicago bar, The Aviary, and the two-Michelin-starred Terrace 16 Restaurant, Sirgurdsson's innovative approach to cocktail-making shines through in every drink on the menu. The program features a fusion of premium spirits, inventive techniques, and unexpected ingredient combinations, all meticulously crafted to create a symphony of perfectly-balanced flavors. Each cocktail is also presented with an artistic flair, making it delicious and visually stunning. The latest menu boasts 12 unique cocktails, each as "Instagrammable" as the next:
Locura single ($19) or party pour ($68) – vodka, pear, elderflower, lemon, sparkling wine
Eva Amelia ($18) – vodka, cassis, Lillet Blanc, lemon, sparkling wine
Mayor Mulligan ($25) – reposado tequila, lemon, rhubarb, soda
Show Your True Colors ($23) – gin, snap pea, lime, mastika, alpine herbs (Zero proof version available)
The Hornet ($21) – tequila, cucumber, jalapeño, lime, orange flower, salt, poblano (Zero proof version available)
Hand Over Fist ($23) – mezcal, hibiscus, ginger, lime, smoke (Zero proof version available)
The Commodore ($18) – bourbon, lemon, pomegranate, creme de cacao
At The Helm ($18) – gin, Aperol, dry vermouth, cucumber, aloe
Smokestack serves two ($38) – bourbon, cognac, rooibos, smoke
Munroe Manhattan ($18) – rye, coffee, black walnut, bitters
Balancing Act ($18) – Jamaican rum, Amaro Abano, sherry
Commodore Espresso Martini ($23) – vodka, espresso, vanilla, cardamaro
The new bar bites menu at The Commodore adds to the allure of its cocktail program with an irresistible assortment of culinary delights. Guests can indulge in the Cheese & Meat Board, which showcases a selection of imported and domestic cheeses, house pickles, and toasts. The Beef Sliders are flavorful, featuring port onion jam, bacon, and white cheddar, all nestled between a brioche bun. The Chorizo Manchego Croquetas are hand-rolled croquettes accompanied by a spicy garlic sauce. The Duo Hummus is a savory combination of classic hummus and avocado hummus, served with a choice of vegetable crudité or naan. The Neopolitan Pizzetta with mozzarella, pecorino cheese, San Marzano tomatoes, and fresh basil is a must-try. The Chicken Wings are expertly prepared with aji panca, signature wet rub, and a tangy lime garlic crema for a touch of spice. "The Cubanada," a house-made empanada inspired by the flavors of a Cuban sandwich, is complemented by a delicious Dijon aioli. Lastly, guests can't miss the Tuna Tartare, featuring Ahi tuna, avocado, togarashi, plantain chips, and ginger soy sauce.
The Commodore, a popular venue in Miami, offers live music on Fridays and Saturdays from 7:30 p.m. to 11:30 p.m. Local DJs perform on Fridays, while live music performances take the stage on Saturdays. Locals highly regard the Commodore as a destination for those seeking the pinnacle of Miami's cocktail culture, set against the backdrop of one of the most esteemed hospitality brands in the world. By unveiling its exciting new menu, The Commodore solidifies its position as a trailblazer in the city's vibrant mixology scene, offering an unrivaled experience for cocktail enthusiasts and connoisseurs. Guests seeking a pre-dinner aperitif, a sophisticated nightcap, or a gathering of friends to toast to life's special moments can enjoy an atmosphere that embodies the essence of luxury.
The Commodore at the Ritz-Carlton, Coconut Grove, is located at 3300 SW 27th Ave. and is open daily from 5 p.m. to midnight. Happy Hour is available daily from 5 p.m. to 7 p.m.