The Cove Brewery celebrated its grand opening in July, representing a significant milestone as the first brewery in Deerfield Beach. The venue embraces the area's laid-back flip-flops culture and offers a lineup of refreshing brews, capturing the carefree spirit of Old Florida.
Situated at the west end of the Cove Shopping Center, the Cove Brewery's taproom and brewhouse provide beach vibes for visitors. After a day of surfing or fishing, beach enthusiasts can head to the Cove Brewery, where an outdoor shower awaits to wash away the sand and salt. The space is designed to reflect the sun-kissed Florida culture, providing a laid-back ambiance. Local patrons can enjoy 20 flowing taps at the indoor-outdoor bar or relax on the pet-friendly patio. The venue's highlight is a commissioned photograph by Henry Bliss, showcasing a local surfer, Keller Shogren, adding to the coastal theme.
The driving force behind Cove Brewery's beach-friendly brews is the head brewer and partner Corey Wilson, who brings over a decade of expertise in South Florida's craft beer industry. With a background in award-winning establishments, Wilson focuses on crafting beers suitable for pool parties and beach days, mainly focusing on producing refreshing classic lagers.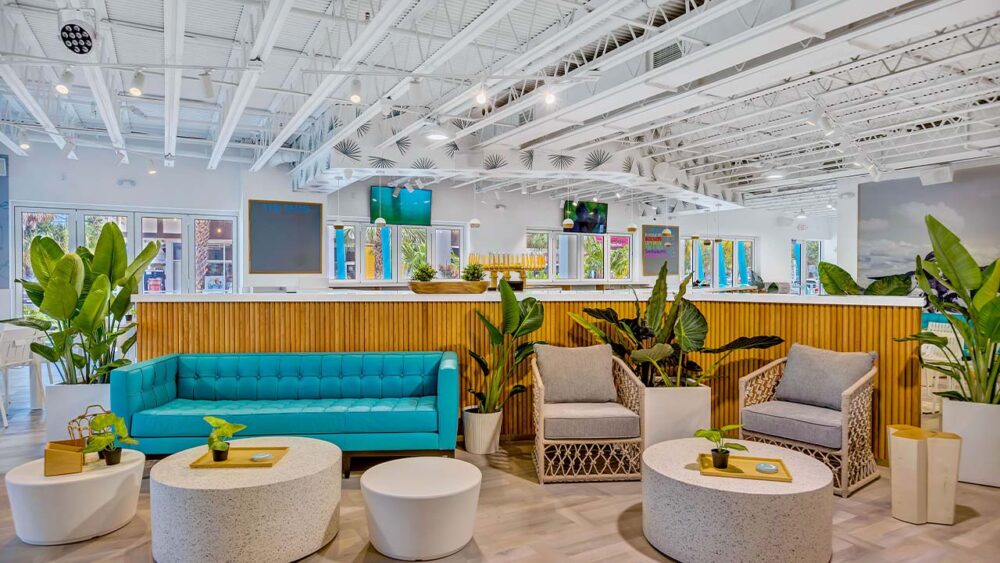 Equipped with a state-of-the-art brewing system capable of producing 620 gallons of beer per batch, The Cove Brewery commits to crafting diverse flavors using high-quality ingredients. The brewery offers five signature craft brews: Heat Wave Florida Wheat, Paddle Up Pilsener, Left Break Hazy IPA, Modern Gose, and Tan Man Amber Lager. Additionally, it will introduce limited-edition seasonal beers and collaborations, along with a curated selection of wines and non-alcoholic beverages.
The Cove Brewery partnered with various restaurant establishments, including Won-Tom's, a pan-Asian-inspired takeout window located next door. Won-Tom's, founded by Troy Ganter, Chef Chad Lee, and co-creator Matthew Smith, offers a range of dim sum and Asian street food that complements The Cove's brews. Guests can easily order from QR-coded menus and pick up their food from the neighboring establishment.
Founded by brother-sister locals Jay Whelchel and Kristy Whelchel-Hartofilis, The Cove Brewery is built to celebrate Deerfield Beach's fun-in-the-sun attitude and Florida's greatness. It is part of a larger 24,000-square-foot adaptive reuse project owned by the Whelchels, which includes two additional retail shops and a second-floor space available for lease. Their vision is to create a gathering place within the Cove neighborhood, fostering a thriving community hub.
For additional information and private events, please email [email protected]