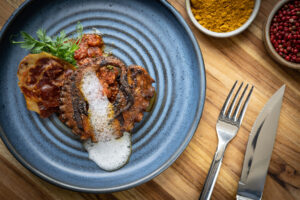 Taster's Choice: It wasn't as if Damoriae Graham didn't already have a world-class palate. Before taking over as executive chef at 3030 Ocean in the summer of 2021, he had established himself as an innovator in kitchens throughout Southern California and at restaurants in Arizona with the Madera Group. But his recent certification as a Level 1 sommelier has Graham experiencing flavors and taste combinations with greater insights than ever before. "Even if it's me tasting our potato puree for the evening, I feel like I'm taking another 10 or 20 seconds to savor every single note in the dish," says the graduate of the International Culinary School at The Art Institute of Los Angeles. "With my enhanced palate, it's like I'm discovering a new level of appreciation for food I've been cooking for years."
Pay It Forward: For customers at 3030 Ocean, that's a good thing. Graham and his standout kitchen team elevate each dish on the restaurant's tightly curated menu as if they were cooking to win a Top Chef finale. It's a vibe that emanates from the top. "The love that I have for the food that we make has to translate beyond the doors of the kitchen," Graham says. "It has to also excite the cooks; there needs to be a consistent passion in the food they make. From there, that passion needs to pass to the servers—and then to the diners."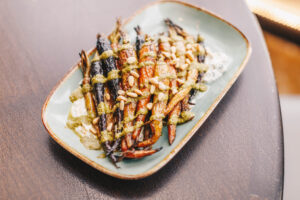 For Starters: Two small plate dishes speak to Graham's philosophy. The grilled octopus, a prevalent but easily mismanaged dish on many South Florida menus, is braised with red wine, cooking down for five hours to break up the tissue. If the spicy pork Puttanesca, simmered with bacon that's been rendered down so the fat can fortify the sauce, wasn't enough of a complement, crispy prosciutto on top gives it an extra kick of saltiness. Ever the sommelier, Graham recommends the restaurant's Malbec with this starter. Similarly, the crab cake also takes a potentially challenging dish and turns it into something special. The key—in addition to the perfect balance between the breadcrumbs, seasonings and crab—is high-heat searing that reveals the complexities behind the flavors. For good measure, the plating comes with pickled cucumber and a roasted red pepper Romesco sauce.
Here's the Beef: One of the most popular dishes on the menu, the center-cut filet mignon, further speaks to the importance of bringing the heat. Graham and his team run their ovens at 525 degrees for steak and fish. "It creates a nice sear on the outside, so you have a higher development of flavor," he says. "Plus, it helps to maintain a moist interior." It doesn't hurt that Graham relies on 1855 Black Angus, cattle raised in the Great Plains that result in highly marbled and flavorful beef, for the filet mignon and the New York strip. The filet comes with roasted garlic potato puree, broccolini and a little bit of saba.
Fish Tales: The top-selling entrée at 3030 Ocean is the black grouper—and it doesn't take a culinary degree to see why. In spring of 2021, before taking the executive chef post, Graham and his wife explored South Florida, visiting Joe's Stone Crab for Key lime pie ("best I've ever had," he says) and sampling the grouper at local restaurants. "On the grouper side, I didn't feel the magic. So, my first order of business [at 3030] was to take our grouper from good to great," he says. "It has to be hot out of the oven, juicy on the inside, and perfectly cooked and flaky." It is. Though the grouper will be a mainstay, expect to see different dishes on the menu about three times a year.
Contact: 3030 Holiday Drive, Fort Lauderdale; 954.765.3030; marriott.com (type in Harbor Beach under Hotel Keyword Search)