Tom Aviv, an acclaimed chef and restaurateur, is introducing his unique culinary style and innovative recipes to South Florida with the launch of his new concept, Branja. Located in Miami's Upper Buena Vista, the restaurant offers an elevated dining experience that reflects Aviv's Israeli heritage. Widely recognized for his flavorful and imaginative cuisine, the restaurant's atmosphere involves a cultural journey offering carefully curated details that include warm pastel colors, a retro design, and a towering outdoor mural by Tel Aviv-based artist Paul Curran that depicts the city's vibrant neighborhoods and bustling markets. The interior and exterior design of Branja is a fusion of Tel Aviv's iconic indoor-outdoor train station structure, a cathedral and ancient synagogue seating.
Aviv was born and raised in Tel Aviv and won MasterChef Israel in 2016. Even though Aviv didn't have any formal culinary training, he quickly became famous for his imaginative use of flavors and sensational persona. He has opened several unique restaurant concepts in Israel and Morocco over the past six years, all of which have become popular dining spots. Aviv started with Coco Bambino, an energetic eatery in Tel Aviv's Carmel Market that served Israeli dishes with an Italian twist, was an instant hit. After the success of his first venture, Aviv launched Fat Cow, named TimeOut's "Best Hamburger in Tel Aviv," for three years in a row.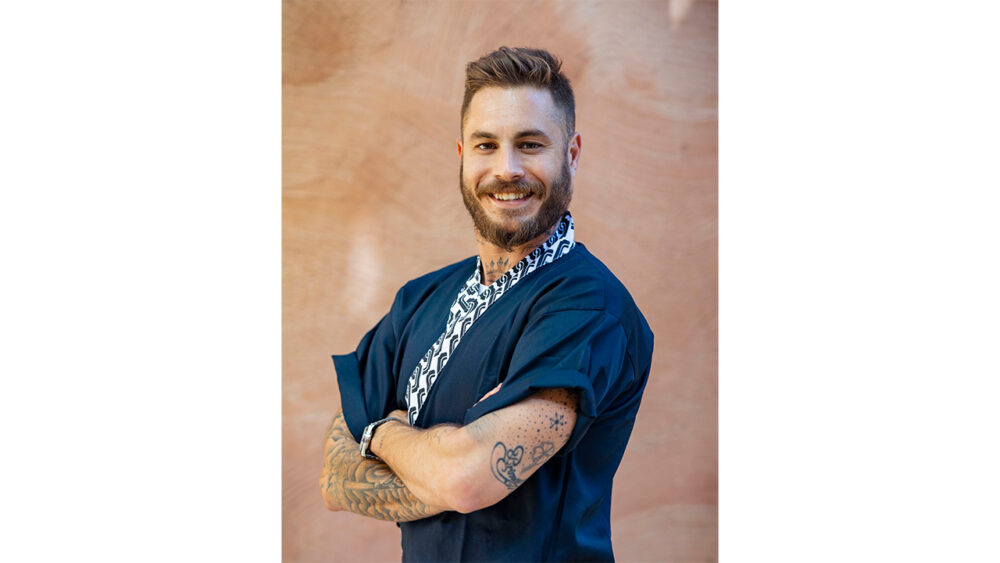 "Miami's melting pot of cultures and cuisines is much like my own culinary inspirations, which combine the vibrant flavors of my upbringing in Israel with my travels across the globe," Aviv says. "With Branja being my first restaurant in the United States, I am excited to introduce this unique taste and create a memorable dining experience. The name Branja is Hebrew slang, originating from the word for tree branch, that translates to 'a circle of friends.' Branja's small outdoor terrace and 12-seat Chef's Table experience offer an exclusive setting to share plates and explore new flavors."
Branja is situated in the Upper Buena Vista retail sanctuary. Its 3,000-square-foot space provides guests a unique experience at the 12-seat Chef's Table, where they can watch Aviv and his team create culinary art in the open-concept kitchen. The indoor portion of the space features copper accents and a retro Miami vibe. One of the highlights of the space is the iconic bar from the Delano Hotel's Florida Room, which has been repurposed as the Chef's Table.
The restaurant space is large enough to seat 150 guests comfortably and features a charming, covered outdoor design that adds to the idyllic atmosphere. Curran's stunning 45-foot-tall mural greets visitors with its retro patterns and vibrant colors, which are inspired by the bustling city of Tel Aviv. The decor also features unique fixtures, from hand-crafted terrazzo-top tables to upcycled 1970s cutlery and pastel ceramic plates, all adding to the one-of-a-kind dining experience. And for a touch of history, guests can sit on reclaimed synagogue benches, adding to the charm and character of the space.
Branja is located at 5010 NE 2nd Ave. in Miami and is open for dinner Tuesday through Saturday from 6 p.m. to 11 p.m. For more information, please call 786-765-5555 or visit Branjamiami.com.
(Photo Credit: Branja)