With South Florida experiencing the first significant weather cooling this week, the peak outdoor season is nearly here. And what better way to enjoy the crisp, coolish weather than eating outdoors at these four hotspots:
1. Tala Beach
Address: 2341 Collins Ave. Miami Beach
Tala, a 50,000-square-foot outdoor oasis tropical beachfront venue formerly known as 1 Beach Club, focuses on Mediterranean-style shared plates, precisely crafted cocktails, and curated entertainment. Tala will open this month after a redesign and rebrand. The new concept will offer sprawling daybeds, overstuffed pillows, an outdoor bar and restaurant serving a new menu, thoughtfully crafted cocktails, and a VIP lounge. Tala is hidden beneath the swaying palms and ample umbrella shading, and it will transport guests to paradise as they enjoy live entertainment while capturing 1 Hotel's signature ethos of mindfulness and wellness. Tala Nights, a once-a-month Saturday night party, will offer guests live music and performances underneath the stars for the ultimate beachfront party.
2. Hutong
Address: 600 Brickell Ave. Miami
Hutong is a restaurant in the heart of Brickell that offers a unique take on Chinese cuisine. Its menu features occasionally fiery Northern Chinese dishes, served in a chic space that combines the vibrant Miami art scene with traditional Chinese design elements. Guests can enjoy Al Fresco dining on the outdoor terrace, decorated with greenery, cushioned seats and pillows, a covered awning and a lively atmosphere.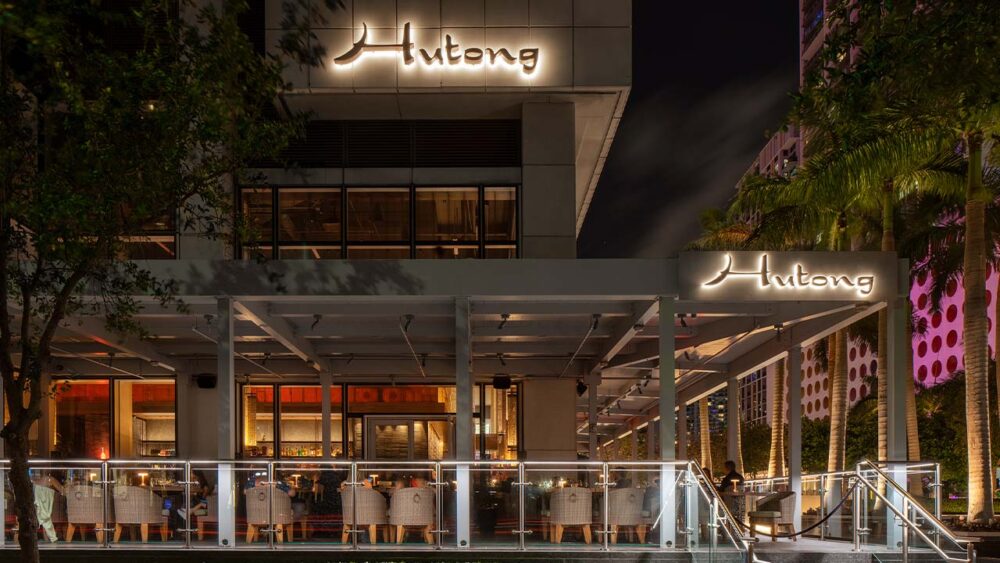 3. Joia Beach
Address: 1111 Parrot Jungle Trail, Miami
Located in a hidden enclave on Watson Island, Joia Beach Restaurant & Beach Club serves as a vibrant day-to-night oasis near downtown Miami. It offers guests a unique combination of a beach club and an outdoor restaurant and is the only private beachfront location in Miami that allows guests to dine with their toes in the sand. The menu at Joia Beach is European-inspired, with seasonal ingredients that are freshly sourced. Guests can enjoy the calming waters of Miami just a few feet away from their table and the sun setting on the city's skyline while relishing the handcrafted cocktails and dishes. The ultimate goal of Joia Beach is to provide guests with Miami's music, vivid culture, and breathtaking scenic views in one place. An evening at Joia Beach is the perfect way to experience all this.
Address: 2801 NW 2nd Ave, Miami
Bakan, an indoor and outdoor restaurant in the heart of Wynwood, immerses its guests in the flavors of Mexico with every bite. As guests enter the restaurant, they are greeted with a cacti-lined outdoor bar and dining area sheltered by inverted wood pyramid canopies. The restaurant is adorned with Mexican-inspired decor comprising illuminated hanging basket fixtures, natural modern tables, and a mix of plush and rattan seating.
Photo Credits: 1 Hotel South Beach and Hutong