1) Filling a Void: Moréa owner Lou Moshakos has vast experience operating restaurants. So, when analyzing what Fort Lauderdale Beach provided in terms of fine dining options, he saw an opening for a Mediterranean-themed eatery capable of meeting the demands of European tourists and local residents seeking authentic Greek dishes. "We think Mediterranean perfectly suits what the area needs," says Moshakos, whose wife Joy and daughter Amber help manage the restaurant. "With all the hotels and travelers, we see it as an ideal complement to what's available."
2) The Scene: It doesn't hurt that Moréa, located at the Paramount Condominiums, offers diners front-row views of the surf and sand side of A1A—away from the bustle of the bar scene on Fort Lauderdale Beach. Its indoor dining room with floor-to-ceiling windows that span some 20 feet ensures that all 275 seats overlook the Atlantic Ocean. A protégé of Dale Chihuly, Doug Frates, designed the exquisite two-story glass wall installation and other hand-blown hanging glass pieces that enhance the sea-inspired decor. The waterfront patio and bar, adorned by a fire pit, adds to the space's laid-back atmosphere.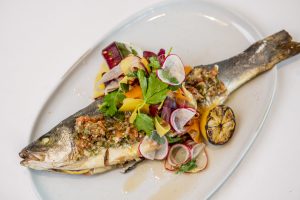 3) The Food: Moréa dazzles with an eclectic menu of small-plate offerings, wood-grilled meats and seafood. On the starter side, think fritto misto (crispy calamari, shrimp and zucchini with lemon aioli) and bacon-wrapped dates with piquillo sauce. Signature dishes include seafood paella (with bomba rice, shrimp, mussels and clams), fresh catch plaki (slowly roasted with crushed tomatoes, capers and olives), clay pot organic chicken and grilled rack of lamb (with Peruvian yellow pepper sauce). There's also a variety of garden treats (beet salad, Greek salad, ajillo mushrooms, fried eggplant) and flatbreads (including a fig and Gorgonzola dolce offering).
4) Perfect Pour: Cocktail lovers will appreciate the equally unique drinks offered at Moréa, including a house margarita featuring beet juice. But what distinguishes the adult beverage menu is the 24 wines on tap (12 red, 12 white). Moréa's wine tap system foregoes the traditional cork and bottle model to lessen the environmental impact while still providing top-notch tastings. "It gives a very fresh taste with an eco-friendly system that can produce fresh wine much longer than a bottle," Moshakos explains.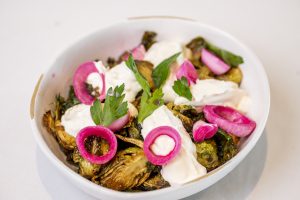 5) Weekend Delight: Brunch at Moréa (Saturdays and Sundays, 11 a.m. to 3:30 p.m.) is not to be missed—and not just because of a create-your-own bloody mary station that seems to have every garnish imaginable for that cocktail. Foodie offerings include shakshuka (poached eggs, crushed tomatoes, capers, onions), an 8-ounce Angus burger on a brioche bun, an acai yogurt bowl for health-conscious diners—and Belgian-style waffles with homemade berry compote and Nutella syrup for those willing to live a little.
Contact: 701 N. Fort Lauderdale Blvd., Fort Lauderdale; 954.306.3064; moreadining.com