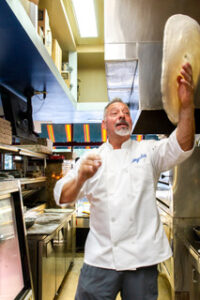 Raised in Queens, New York by an Italian family exposed Angelo Landi to traditional Italian recipes that produced his passion for the flavors and scents that engulf many family kitchens in Italy. Yet, it was his start at a Greek diner in Long Island working as a dishwasher where he began to appreciate the grind the restaurant industry required to prosper.
After years of working his way through various kitchens to become a self-taught food service professional by soaking up every piece of knowledge, Landi's first restaurant ownership stake began in upstate New York when he opened Angelo's Fresh Seafood & Takeout in 1990. The farm-to-table concept featuring sustainable seafood with an Italian fare operated for 20 years before Landi joined the corporate side of the industry, becoming Senior Vice President of Culinary Operations for two significant hospitality groups.
"I've been very blessed to own my own places and really climb through the ranks," Landi says. "That gave me vast experience in volume, high pressure, high traffic and I just thrive in it. My passion for the industry is undying."
With such a long and deep-rooted history working within the restaurant sector, Landi saw firsthand how adversely impacted restaurants became when the COVID-19 pandemic forced lockdowns that permanently closed countless amounts of hospitality businesses around the country.
"It's decimated my world," he says. "It's my friends, my colleagues, my coworkers. Every realm of it has been impacted, maybe to the point of no return. And seeing such an impact that the floor literally dropped out from under us and everybody scrambled and held on for dear life, that really impacted me."
Witnessing that devastation bore Landi's idea to open a casual kitchen restaurant offering made-from-scratch food capable of feeding an Italian-sized family. Angelo's To Go (Craveable Italian) in Boca Raton opened in September 2020, featuring all-inclusive take-home dishes to lessen the burden many families faced during the pandemic when looking for restaurant-quality food.
"What we wanted to do was when families were really on lockdown, we tried to help mom with the cooking," he says. "We take great pride in everything we do. It's very easy to make good food taste great. And we use simplicity in each of our recipes. And because of that, we create great flavors, so it's a lot of fun. We want to grow this and see where we can go with it."
After successfully reaching an underserved market, Landi began exploring options to expand his Boca eatery by offering customers authentic New York-style pizza and he needed a traditional dough mixer to maintain the original Italian fare. After he took a trip to Fort Lauderdale to potentially purchase a mixer unit from Empire Pizza at the heavily trafficked corner of Federal Highway and Broward Boulevard right off the bustling area of Las Olas Boulevard, he immediately found his next venture.
"I walked in here and fell in love, so instead of buying the mixer, we bought the business," he says. "Fort Lauderdale is more of a metropolis. There's a lot more happening; there's a lot more cultures; there's a lot more traffic; there's a lot of things happening. So when we saw that we had the opportunity to come to Fort Lauderdale, we just embraced it. We couldn't believe how lucky we were."
Angelo's Craveable Italian Food in Fort Lauderdale features many of the tasty take-home dishes that made the Boca location popular. The $80 "Extra Grande" package includes meatballs (made from his grandmother's recipe), chicken parmesan, eggplant parmesan, lasagna, baked penne, garlic bread, salad and cannolis with a drop of Nutella spread, all more than capable of feeding at least eight people. Along with using his grandmother's meatball recipe to craft the Italian staple, which Landi says reminds him of the way his grandmother's kitchen smelled, he handpicked a local company to provide flavored cream sodas to also help add a New York-style feel to the establishment.
"We feel that we've created a concept that's COVID proof," he says. "Our location in Boca has no seats and we opened it in the middle of COVID on purpose—to create a niche for folks who didn't want to go out to eat. We can be completely contactless and we can be incredibly COVID compliant. Our bags are sealed with tamper-proofing if you choose our delivery services so they show up to you sealed and ready to go."
The new Fort Lauderdale location at 15 North Federal Highway currently offers counter service with casual indoor and outdoor seating. Landi says the customer experience and feedback will dictate whether the new site will cater to more dine-in or to-go orders, but he's ready to adapt, just like when COVID hit nearly two years ago. But for now, patrons are welcome to walk in, order online, call ahead at (954) 467-9997, or use any food delivery app. With its "Extra Grande" meal among its numerous packages and offerings, Angelo's Craveable Italian Food can also provide authentic-tasting Italian food for any corporate event, office affair, or large family gathering (COVID permitting, of course).
Being a fitness buff, Landi personally crafted the healthy Italian selections available including his immensely popular and amazingly delicious vegan pizza, Sogno Vegano. Angelo's New York-style thin crust, the Sicilian pizza and Cauliflower crust pizza help provide healthier options for consumers wanting less filling meals without sacrificing taste.
His passion for creating the same smells and family environment in his grandmother's kitchen has extended to Landi's employees. He strives to foster a friendly atmosphere where workers feel comfortable to have fun while working hard to provide an excellent experience to the customer.
"We pride ourselves on not saying no," he says. "If you want a special combination of something or if you would like us to do something different for you, that's what we're here for. The definition of Italian food is generosity and hospitality. We'll do whatever you want, as long as we have the product in-house. We want to be part of the community and be the local go-to Italian place for pasta, pizza, sandwiches and desserts."