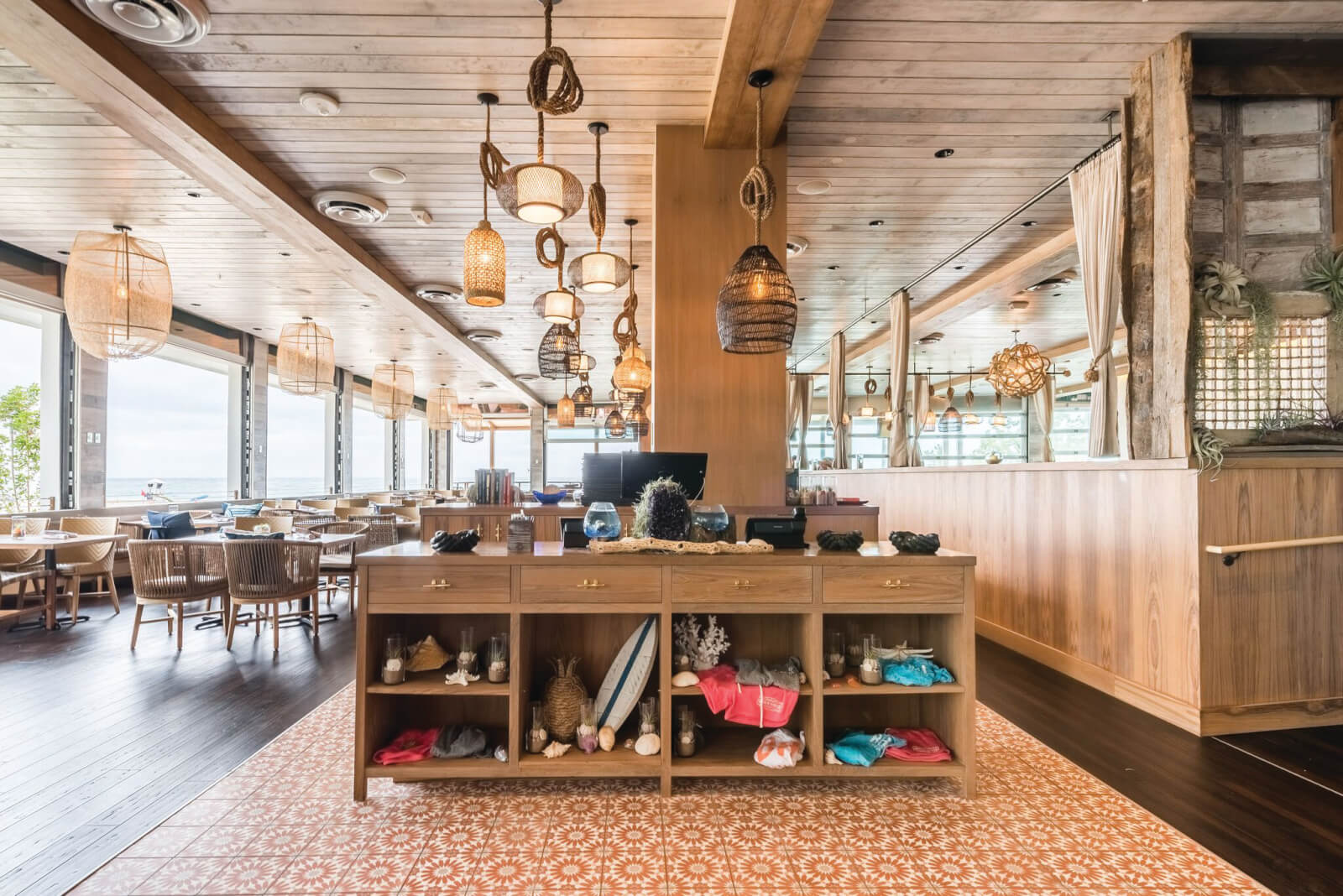 Beachy Keen
The server at Beach House Pompano (270 N. Pompano Beach Blvd.) leaves the dining check tucked inside the pages of a page of hardcover copy of Gulliver's Travels. You could get yours among the pages of Moby Dick or The Old Man and the Sea. It's one of the deliberate touches to make guests feel as if they are spending time at a friend's cozy beach retreat.
"We didn't expect it, but visitors have started leaving notes in the books, commenting on the food, recommending a menu favorite, or leaving their mark by announcing where they are visiting from," says Andy Fox, director of operations for Brimstone Restaurant Group, owners of Beach House.
Built on a prime piece of property directly on the sand, Beach House is the first restaurant to open as part of Pompano Beach Fishing Village, a six-acre beachside redevelopment. The 12,000-square-foot casual restaurant had its grand opening in April, after 2½ years of development and $6 million in new construction. It's one of two anchor restaurants for the new Fishing Village.
The Beach House idea was created by Cincinnati-based Jeffrey R. Anderson Real Estate as part of its restaurant group and an extension of its Brimstone Woodfire Grills in Pembroke Pines and Doral.
"The city of Pompano didn't want a large chain restaurant, they wanted local flair," Fox says. "We decided since we were going to be on the water, we'd create something new."
The interior is inspired by beach houses from California to Costa Rica. Custom surfboards made by an artist in Kauai, Hawaii, hang on the walls, along with oars from Polynesia. Ceiling chandeliers are created from handmade woven baskets. Driftwood is scattered throughout, and a small, weather-beaten canoe is perched near the back entrance looking as if it just washed up from the ocean.
The restaurant's open atmosphere brings the outdoors in, while the best seats in the house are on the patio, where the beach and ocean are front and center, and Pompano's pier is off in the distance. On the second floor, the atmosphere is more like a beach party. The lively rooftop lounge is quickly gaining status as the best bar view in South Florida.
"The idea is to have dinner downstairs, then spend two more hours upstairs and have an entirely different experience," Fox says.
Fireside chat: Beach House executive chef Troy Beasley raves about the house clams (pictured), prepared with andouille sausage that's sautéed along with the clams over a high temperature in a hot skillet. The addition of white wine, garlic, shallots and olive oil creates a "smoky flavor like you'd get from cooking on a beach fire pit," he says.
Thrice as nice: The Lighthouse Ceviche gives seafood lovers three favorites in one: Scallops, shrimp and lobster are flavored with fresh coconut milk, lime juice, cilantro and jalapeño, then topped with crispy plantains.
That's a stack: All the ingredients in Tuna Poke Surf Stack—avocado, chopped sashimi-grade tuna and fried wontons, are layered inside PVC pipe. The pipe mold is then removed, leaving a perfect stack.
Sushi with a beachside twist: The lobster roll, a New England coastal mainstay, ditches the bun for seaweed. Maine lobster is rolled in seasoned breading then lightly fried and rolled into sushi with black rice.
Brimming with seafood: Ocean-to-table dishes dominate the menu, including two fresh fish catches of the day, fish tacos (try the Costa Rican shrimp taco, in which jumbo Gulf shrimp are topped with homemade slaw and fresh grilled mango) and Walk the Plank Salmon, slathered in whole-grain mustard butter and grilled on a cedar plank.