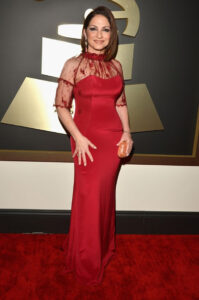 A getaway to South Florida after leaving college in Argentina left Gustavo Cadile smitten with the Magic City. He moved to Miami without knowing English and quickly found a job as a busboy at two hotel restaurants (one in Surfside, one on Miami Beach). One of his co-workers introduced Cadile to the manager of an apartment building on South Beach. It took a month of working days and nights to earn enough for the security deposit, but eventually he moved into a studio apartment.
"I didn't have a bed, but I did have all these winter clothes from Argentina that I no longer needed in Miami," Cadile says. "So, I folded them all equally and tucked them neatly under the sheets that I had bought. That was my first mattress."
Another co-worker noticed that Cadile never stopped sketching dresses in his spare time. He explained to her that he wanted to be a fashion designer; she suggested that he visit the Neiman Marcus in Bal Harbour. On his next day off, Cadile went. The minute he saw the second-floor couture department, he knew it was time to quit the restaurant business.
He made a beeline for the human resources office and snagged a job in the receiving department, taking shipments to their appropriate floor in the store. Inevitably, he'd linger in the couture department after making that day's delivery. One day, the department's manager, a French woman, asked why. He shared his dream job with her.
The manager pointed to a mannequin on the floor.
"Do you know who makes that dress?" she asked.
"That's Valentino," Cadile said. "The fabric is velvet."
The next day, she hired Cadile to work in her department. Shortly thereafter, the manager brought him a jacket from the back of the store—and she asked him how he might transform it for the following season. Cadile sketched out an entire collection based on the one piece.
Little did Cadile know that his manager was friends with Charlene Parsons, the former model who became lead educator and fashion guru at Miami International University of Art & Design (formerly the International Fine Arts College). The manager showed Cadile's sketches to Parsons. She was so impressed with the concepts that Cadile was offered a scholarship to the fashion school at MIU.
At his graduation in 1998, Cadile earned accolades as best designer for women's eveningwear. His parents traveled from Argentina to Miami to see their son collect his diploma.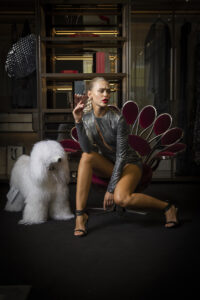 Name Recognition
After spending time in Italy working with Egon von Fürstenberg, the renowned fashion designer and ex-husband of Diane von Fürstenberg, Cadile eventually moved to New York City, landing jobs with the under-the-radar women's division at Perry Ellis and creating bridal dresses at Oleg Cassini.
In the mid-2000s, an acquaintance asked Cadile if he would create a special bridal gown for his friend, who was having a splashy, socialite-heavy wedding at the Friars Club. On the Monday after the wedding, the phone rang. It was Joan Kaner, fashion director at the time for Neiman Marcus; she had attended the wedding—and loved the bride's dress.
Kaner invited Cadile to her office and asked him to bring additional samples of his designs.
"She asked me to sketch a fashion collection based on where I saw my clothes being displayed in the store," Cadile says. "It took me one week to sketch an entire collection. When I came back to her office, the buyer for couture felt my designs were right for that category. I said, 'OK. I think that we can have business.' "
Within six months, Cadile was done with Oleg Cassini and on his own, selling his vision of feminine, timeless and elegant women's eveningwear to the same luxury retailer that, a decade earlier in Miami, had given him a job in the shipping department. Now, his colorful silhouettes—many done in his preferred fabric, Italian crepe—were displayed in the same showroom space previously occupied by star designer Monique Lhuillier. Before long, Saks Fifth Avenue also featured his eveningwear collections; Bergdorf Goodman, meanwhile, sold his bridal designs.
But Cadile wasn't done advocating for himself. He recalls seeing Eva Longoria on Desperate Housewives in 2007 and having the adult version of his Eva Perón inspiration. He cold-called Longoria's manager and explained that he was a Latin designer in New York.
"I forwarded him images from that first collection and told him I wanted to dress Eva," Cadile says. "It was 6 p.m. in New York when I sent the email. Thirty minutes later I got a return email. Eva saw the dresses and picked one. She was coming to New York the next week and wanted to do a fitting."
Not only would Longoria go on to wear Cadille designs at more than 15 different events, but her red-carpet photos in different magazines opened up the celebrity floodgates.
"The phone rang one day in our space in Garment District where my cutter, sewer and two other people produced the pieces," Cadile says. "It was Catherine Zeta-Jones' assistant. Catherine was paging through a magazine while vacationing in Bermuda with her husband, Michael Douglas. She saw one of my dresses worn by Eva."
Zeta-Jones had an event coming up in New York, and she wanted a Cadile original. They settled on a purple dress, but there would be no time for a fitting. And there were no guarantees; Zeta-Jones had a backup dress in case the Cadile didn't meet her expectations.
"I delivered the dress myself to the hotel where she was staying and took it to the reception desk," he says. "The man there worked out at the same gym that I did. I gave him my number and told him to let me know what color dress Catherine Zeta-Jones is wearing when she comes down.
"He called a few hours later and said, 'She's wearing purple.'"
Over the years, Cadile has designed dazzling eveningwear for everyone from Elizabeth Hurley and Anjelica Huston to Reese Witherspoon and Sofia Vergara.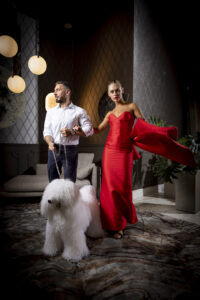 Full Circle
Upon returning to Miami this past year, Cadile wasted little time establishing new connections. He's collaborating with the purveyor of contemporary Italian furniture, Visionnaire, which is displaying pieces from Cadile's new couture swimwear and resort-wear collections on its showroom floor amid its chic interior pieces.
He's also in talks with the Downtown Development Authority about obtaining a space in Miami. "I love New York, and if I have a client there, I'll go back and forth because I still have my apartment," he says. "But my idea is to expand in Miami and hire people from here—perhaps even to work with students or graduates from [Miami International University of Art & Design] who want to work in the fashion industry.
"The goal is to move my production team here and, in a couple of years, have my own standalone retail store in Miami."
But South Florida represents more than just a change of business scenery. Cadile recalls sitting in his New York apartment with his dog and cat during the height of the pandemic—and feeling so anxious about work and so paranoid about contracting COVID-19.
"One day, I said no more," he says. "I turned off the TV, got on my bicycle and went to the park. I started getting sun and exercising. In one week, I was a different person. But it became more than just [about the pandemic].
"Before, I was in a work cycle that never stopped. Doing everything myself, I never had balance. And I want that. Life goes so fast. I don't want to be 70 and stressed about the next fashion collection. Being in Miami [and doing two seasonal collections, to go with his ongoing bridal work for Bergdorf Goodman], I finally have time to have a life."
Cadile catches himself and smiles. He may have eased off the throttle, and he may not be a slave to the schedules demanded by department stores, but don't think for a second that his creative wheels aren't always spinning.
"I do still have the passion," he makes sure to emphasize. "At the end of the day, there I am—still sketching ideas for dresses."
Photography by Eduardo Schneider
Interior images shot on location at Visionnaire Miami (2063 Biscayne Blvd.; vissionaire-home.com)
Model: Carla Romanini