The Foundry is one of those forward-thinking endeavors in Pompano Beach that's getting in on the ground floor before the explosion of "the new Pompano." It's already a game changer and set to become an anchor on what eventually could become a restaurant row, a la Atlantic Avenue in Delray Beach and Las Olas Boulevard in Fort Lauderdale.
Housed in the former Mr. Fish (Mike Montella's fresh fish market, a Pompano staple for 33 years), just before the Intracoastal Waterway on Atlantic Boulevard, The Foundry is generating buzz beyond its eclectic menu.
The open bar creates a lively atmosphere upon arrival. Although the space inside is expansive, the ambience is cozy. The decor recalls an abandoned East Coast or Midwest factory that's been converted into a restaurant.
General manager Rick Hamilton is happy to point out some of the artifacts that add to the atmosphere: The ceiling is made with wood-plank flooring from an 1800s tobacco factory in North Carolina, walls are forged with 100-year-old brick from Chicago, and reclaimed wood under the large bar is from the original Singer sewing machine factory in Elizabeth, New Jersey.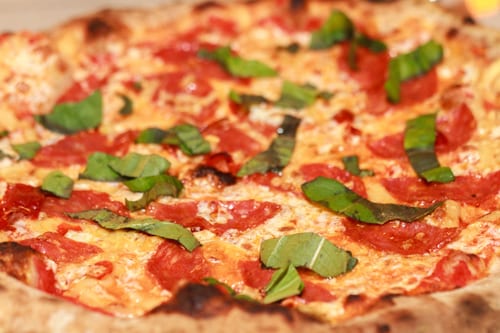 "We didn't faux a lot of things," Hamilton says.
There's nothing copycat about the food, either.
The restaurant has a raw bar with seating in the back. Not only does it give a close-up view of the fresh seafood—lobster, clams, mussels and oysters on ice—but it also offers a glimpse into the bustling kitchen.
We opted for a dozen oysters on the half shell, which were served on ice and delivered on a metal stand that's also used for wood-fired pizzas. The display was symbolic—these oysters should be on a pedestal. They were some of the freshest, most-delectable oysters you'll find in South Florida.
Our server explained each type. Four of each: Raspberry Points from the cold waters of Prince Edward Island, Canada, which give them a salty-sweet finish; Fat Bastards from the same PEI waters, small, plump and bursting with flavor; and Half Moons from Massachusetts, slightly saltier than the other two. The Foundry usually has three to five varieties available, but your best bet is to let the shucker choose.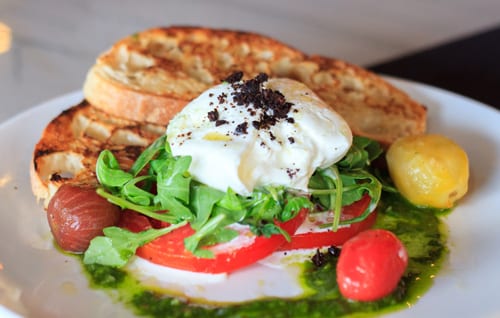 Reviewing the specialty cocktails list, I wanted something crisp to accompany the oysters, so our server suggested the Grapefruit Basil Collins, a refreshing concoction made with ruby red vodka, basil, honey syrup and fresh lime juice.
We had two appetizers. First, the small plate of burrata, an Italian cheese much like mozzarella, is served at The Foundry with ciabatta toast, basil pesto, heirloom tomatoes and olive crumble. Next was a dish that wasn't on the menu—pan-seared scallops wrapped in speck (a thin-sliced Italian ham) on top of spaetzle, traditional German noodles. It was a dish the chef was considering for the menu, and I was more than happy to be the taste tester.
For a main course, I selected shrimp and grits. The Creole-style large shrimp, grilled on an oak-wood fire that gave the dish a smoky flavor, arrived atop sautéed grits flavored with peppers, onions, garlic and topped with crispy collard greens.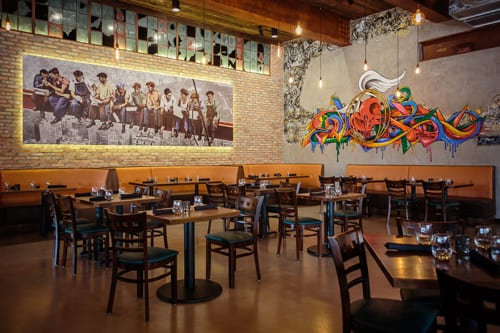 My dining companion, no doubt tempted by the smell of oak wood emanating from the pizza oven, ordered the Big Smoke pizza, a pie that gets its kick from spicy capicola (dry-cured pork shoulder) and hot Calabrian chilies.
We did save room for dessert, but only enough to split a slice of Two Stage Chocolate Cake, a flourless chocolate cake that was rich yet light. Desserts, like almost everything else, are made in house.
The Foundry may look like a factory, but its food is definitely original.