The biggest moment of the year for the NFL has arrived—Super Bowl LIV, happening right here on Feb. 2 at Hard Rock Stadium in Miami. For those who can't score a high-priced ticket, watching the game with fans at one of South Florida's standout sports bars/restaurants is the next best thing. These favorite spots in Palm Beach, Broward and Miami-Dade counties provide more than just big-screen TVs.

Bru's Room
Where: Boynton Beach, Coconut Creek, Coral Springs, Deerfield Beach, Delray Beach, Pembroke Pines, Royal Palm Beach, Sunrise
Game Plan: Don't forget to order the award-winning chicken wings, which are grilled rather than fried, and made 30 different ways—start with the "World Famous" Triple Threat and Mango Habanero versions. There's a choice of specialty cocktails, craft beers, imports and domestics in bottle and draft—and 50-plus HDTVs fill out each space.
Extra Points: The namesake of Bru's Room is Bob "Bru" Brudzinski, a lauded Miami Dolphins linebacker who recorded over 600 tackles, played in three Super Bowls and was voted to the Dolphins' 25th Silver Anniversary team. Bru's Room will be right in the middle of everything, as they have four stands in Hard Rock Stadium.
Contact: brusroom.com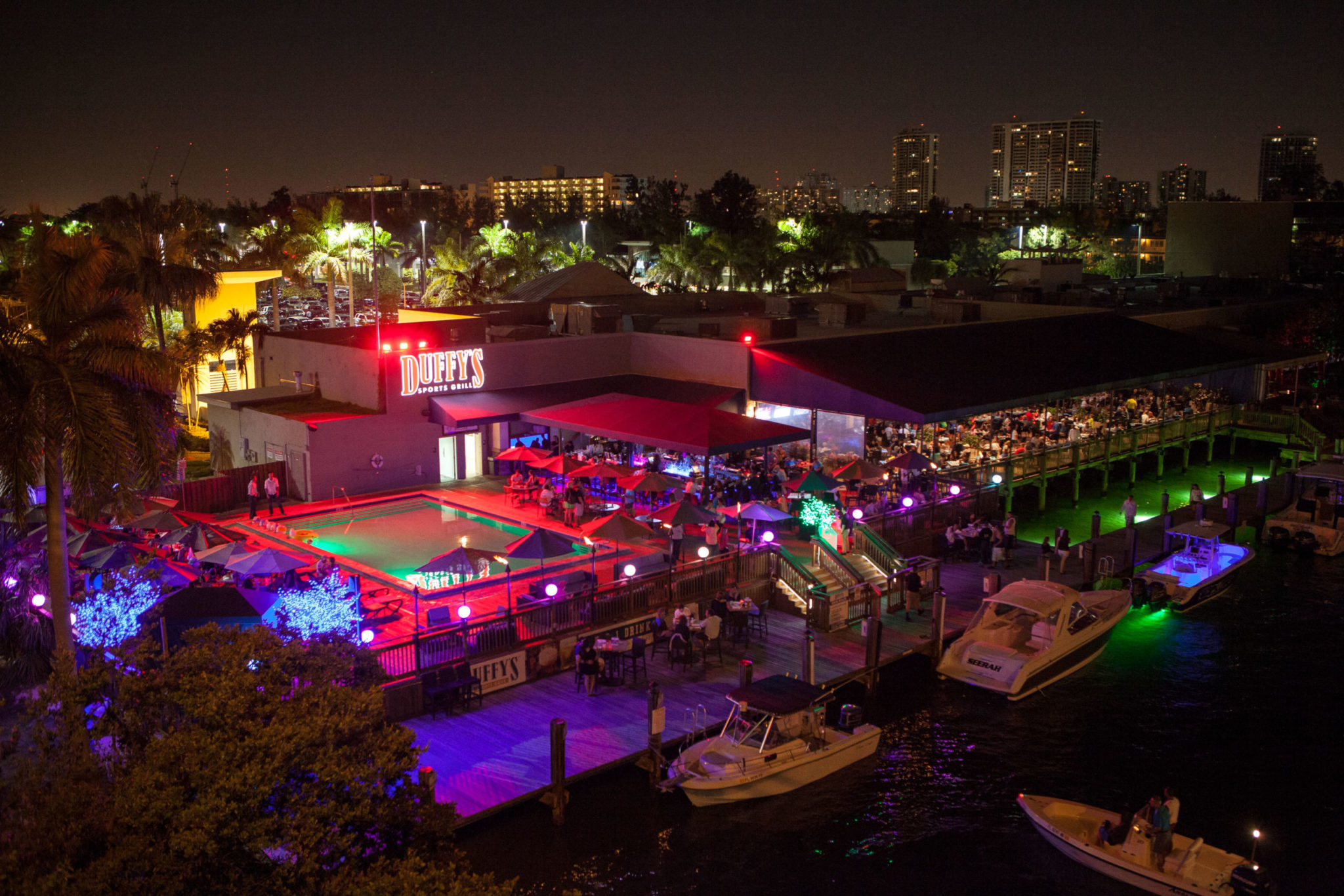 Duffy's Sports Grill
Where: Weston, Plantation, Fort Lauderdale, Deerfield Beach, Boca Raton, North Miami Beach and more
Game Plan: Duffy's is a Florida sports bar legend, with 34 locations across the state, each featuring over 80 HD TVs. The establishment routinely shows up on "best-of" lists, in such categories as wings, burgers and happy hour. There is a two-for-one drink offering available all day, everyday, encompassing beer, wine, and liquors.
Extra Points: Duffy's has a location in North Miami Beach, just a few miles from Hard Rock Stadium, sitting on the Intracoastal Waterway. It features outdoor seating, two bars, a swimming pool, lounge areas, and more than 150 TVs. All Duffy's locations will celebrate the Super Bowl with an assortment of food and beverage offers, including all-inclusive packages.
Contact: duffysmvp.com
Yard House
Where: Coral Gables, Boca Raton, Sunrise and more
Game Plan: This upscale-casual eatery is a beer-lover's paradise, claiming the record for the world's largest selection of draft brews—over 100. The glass-enclosed keg room reveals the thousands of gallons on tap, in addition to a considerable array of bottled beer. Available food items also exceed 100 and are made from scratch daily. Dozens of TVs with ideal sight lines dot the establishment.
Extra Points: Yard House embraces music and visual art. They have a curated playlist of 10,000 classic and new rock songs, and each location has its own unique art gallery—look closely, you may find South Florida references somewhere in these works.
Contact: yardhouse.com
Clevelander South Beach
Where: 1020 Ocean Drive, Miami Beach
Game Plan: Clevelander football watch parties are the stuff of legend, featuring a 20-foot LED screen, its own halftime show, contests and food/drink specials galore—so it won't be a sedate Super Bowl by any stretch. The on-site sports bar contains 15 TVs, and the classic combo here is a cold beer and Clevelander's signature wings.
Extra Points: Since 2014, ESPN Studios has maintained a second-floor broadcast space at Clevelander South Beach, with the sand and surf as a backdrop. There, Miami Herald sportswriter and ESPN personality Dan Le Batard, along with his father, Gonzalo "Papi" Le Batard, host Highly Questionable—a comedic take on sports world happenings.
Contact: clevelander.com
Bokampers Sports Bar & Grill feature image
Where: Fort Lauderdale, Plantation, Miramar and more
Game Plan: All Bokampers provide "The Best Game in Town," but the Fort Lauderdale location really pulls out all the stops. That Bokampers is set on the Intracoastal Waterway and boasts 165 HDTVs, a 19-foot screen, three bars, a fire pit, a prodigious patio and plenty of dock space. The popular Killer B wings span a wide heat spectrum and come in a variety of flavors. For the brave/adventurous, try The Beast, a 4-pound burger that's free if you finish it in under an hour. There is a diverse assortment of adult beverages, including Florida-sourced craft beer and an impressive wine list.
Extra Points: The namesake of this hotspot is Kim "Bo" Bokamper, a Dolphins linebacker/defensive end for 10 years, starting in 1976. He made the Pro Bowl team in 1980 and participated in two Super Bowls and three AFC Championship games. His restaurant group, PDKN, also has Bo's Beach, The Balcony and Bo's Pub in its stable.
Contact: bokampers.com
Quarterdeck
Where: Fort Lauderdale, Davie, Dania Beach, Plantation
Game Plan: Don't let the casual ambience fool you. Quarterdeck is award-winning and takes all things cuisine and libations very seriously (and with "no less than" 40 TVs, their sports bar reputation as well). Masters of sushi and spirits grace the restaurant with expert eyes, and corporate chef Kevin McCarthy is constantly tweaking and refining the restaurant's offerings. In their decades of operations, they have served an estimated 1.5 million dolphin sandwiches (don't worry, that's another name for mahi) and 1 million full rack-of-rib dinners. When it comes to cocktails, don't forget to try what Quarterdeck claims is "the best old fashioned" in South Florida.
Extra Points: A "quarterdeck" refers to an area in the stern of a ship that is traditionally for ceremonial use. For the eatery, the name was coined in 1966 by founder Paul Flanigan's uncle, Joe "Big Daddy" Flanigan, as the moniker of his Fort Lauderdale liquor store lounge.
Contact: quarterdeckrestaurants.com
—Michael Isenbek