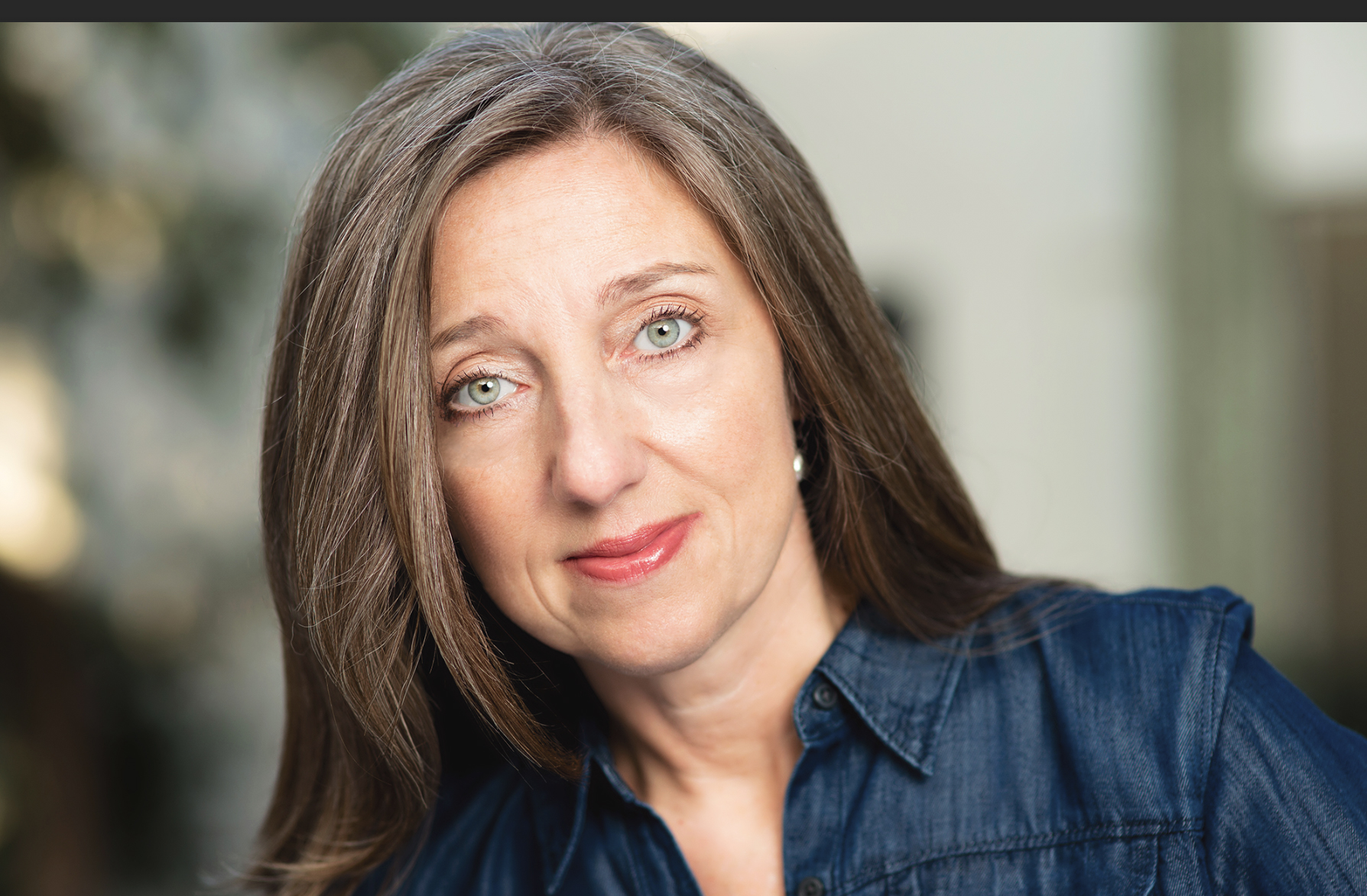 Jeni Hacker: The Actor's Actor
Meet the Meryl Streep of South Florida theater—the versatile, dynamic and award-winning Jeni Hacker
As 2019 rolled, bright-eyed and bushy-tailed, into 2020, Jeni Hacker had just finished her peak year on the South Florida stage. In January, she would receive two Best Actress nominations from the Carbonell Awards for theatrical excellence in the tri-county region—one for her bonkers portrayal of Mrs. Lovett, Cockney baker of cannibalistic pies, in Zoetic Stage's Sweeney Todd; the other for her solo performance in Grindr Mom, a world-premiere dramedy at the Wilton Theatre Factory in Wilton Manors, about a conservative Mormon mother forced to accept that her son is gay, among other uncomfortable truths.
In March, she was poised to continue her run of success with Miami's Zoetic Stage and another Stephen Sondheim musical, A Little Night Music, where she was cast as Charlotte Malcolm. But on the last day of rehearsal, the cast was told that the Arsht Center, where Zoetic performances are staged, was closing because of COVID-19.
"The representative from the Arsht said, 'We're going to close for two weeks, and then hopefully …' Hacker says, before breaking out in laughter.
The curtain likely won't rise on A Little Night Music until 2022. Yet despite the challenges of a mostly theater-starved year, Hacker made news.
She won both of her Carbonell nominations at the virtual ceremony last fall, for Best Actress in a Play and in a Musical, making her the only actor in the history of the awards to win two solo acting categories in one year—two different times. The first twin win came in 2017, when she captured Best Supporting Actress in a Play for Zoetic Stage's urgent ensemble drama After, by Michael McKeever, and Best Actress in a Musical for her breakthrough role in Zoetic's Passion (Sondheim, once again).
At the time, the Miami resident had been a working theater professional for less than six years, having been cast in her first production in 2011. It took her three years to even grasp what the Carbonell Awards were.
"I was certain I would not win for After," she recalls. "Everyone in that show was so fantastic. I felt it was nice to be nominated. … Then I was certain I wouldn't win for Passion, because I'd already got one. … I'll never forget that night. I was prepared to leave empty-handed. Those were my first nominations, and I still felt like the new kid in town."
Opening Act
Hacker may have made her professional debut at 39, but she was not new to theater.
Living in New Jersey as a teenager and spurred on by a life-changing experience seeing Sondheim's Into the Woods on Broadway, Hacker joined her high school choir and moved to Miami to major in musical theater at the University of Miami. Citing issues with the theater program at the time, which she describes as "flailing" following the death of the program's director, Hacker switched her major to a bachelor of arts with a vocal principal.
After college, she formed a jazz standards duo and an R&B band, Jeni Cawley (her maiden name) and the Super Trolley, which gigged around the region playing new arrangements of the
likes of Stevie Wonder and the Jackson 5. "Being a musician, especially back then, I was making in one night what I would have made in the theater in a week," she recalls.
Eventually, Jeni married Jim Hacker, a trumpet player and music educator, and stopped touring to raise two children, who are now in college. The seed to return to acting came after seeing Joseph and the Amazing Technicolor Dreamcoat, from the 1999-2000 season at Actors' Playhouse. "I remember saying to Jim, 'I can do that. I'm at that level. I think I can hang with those people. So maybe I should do theater again.' "
Ten years later, David Arisco, artistic director at Actors' Playhouse, cast Hacker in Oliver!, after she nailed her first audition. She would continue working primarily at the Miracle Mile-based theater, earning a reputation for her deft comedic timing as much as for her impeccable vocal range. "I was usually the sidekick, the comic. That's really who I was, and it's who I am in life, and naturally who I am onstage. But somehow Stuart Meltzer saw something different."
Meltzer, artistic director of Zoetic Stage, recalls his Jeni Hacker aha moment from the audience of the Actors' Playhouse musical comedy See Jane Run. "When I first saw her sing, I thought, 'My God, this gal has pipes!' I was thinkning about how I wanted to cast for Passion," he says. "I thought, well, Jeni has this incredible, rich, lower tone as well as this unbelievable ability with a belt."
For the daunting and rarely produced musical, Meltzer cast Hacker as Fosca, the sickly, clingy woman who steals the heart of a 19th-century military captain away from his glamorous, aristocratic fiancée. Tapping into reservoirs of melancholy that humanized her character even at her most Machiavellian, Hacker's performance would cement a fruitful relationship with Zoetic. "[Passion] was the start of what I think is going to be a lifelong friendship and a lifelong collaboration," Meltzer says.
Her Time to Shine
The collaboration reached its apotheosis in Sweeney Todd, in which Hacker brought an unbridled sense of hilarity to Sondheim's most gothic work, effectively reinventing Mrs. Lovett and working circles around the title character. Before her contribution to the show, she says, "I had not seen all of Sweeney Todd—any of the iconic ones. So, I feel fortunate. It was impossible to steal from someone—and I have no problem with grand theft in theater; if it works, go for it. But I had the great privilege of not seeing it, and so that made it a little easier."
Which isn't to say the process was without a hitch. Mastering Sondheim, she says, "is hands-down the hardest thing I've ever done onstage. Most songs are mixed meter with multiple key changes and lots of patter, so lots of words that sometimes don't repeat, but they flip-flop. That really bit me in the butt for Sweeney, because I felt behind the eight ball for the entire process. On Mondays, on our day off, I went in, because we had the room, and I spent the day by myself, working. Mrs. Lovett is relentless."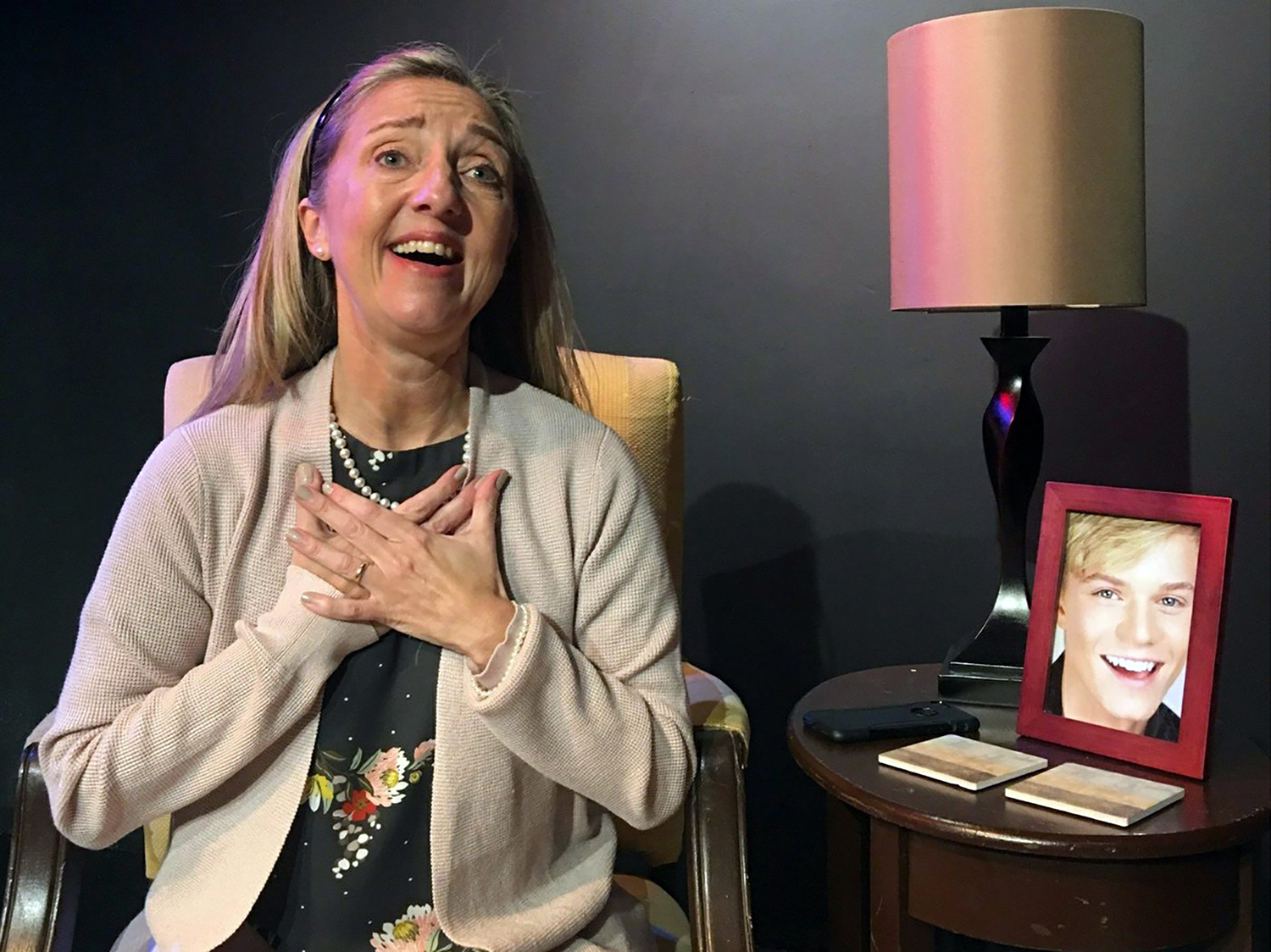 Hacker then shifted gears in the opposite direction to play Grindr Mom (pictured left) in Ronnie Larsen's world-premiere solo production, a role that involved audience interaction and the most memorization of anything she had taken on. She connected deeply to the material.
"This woman is not far off from who I am," she says. "I am a mom. I'm not a Mormon, but I am a person of faith. I am often challenged by others because of that faith, in good ways and bad. So, she wasn't a stretch. She was a mom who was trying to figure out how to reconcile her faith and her love for her family, which then turned into her love for her entire community. I loved the overarching message of this play so much."
Larsen wrote the play only when he had Hacker's blessing to star. "I'm fairly new to the South Florida theater scene, but I asked a bunch of theater people to point me in the direction of a great actress, and everyone said, 'Jeni Hacker,' " he recalls. "So I called her up. … On the phone, she embodied everything I wanted the character to be: smart, warm, vulnerable, thoughtful, funny, sophisticated, down-to-earth. It just felt perfect from the first moment, and I am now the president of the Jeni Hacker fan club."
Hacker's last performance on a South Florida stage was Theatre Lab's imaginative Everything is Super Great in Boca Raton, in December 2019. But she kept active even in quarantine, from performing musical snippets for Zoetic Stage's free weekly Zoom trivia nights in the pandemic's early days, to recording a solo performance of Sweeney Todd's "The Worst Pies in London" for the online Carbonell ceremony, in her kitchen, with her own apron, her own hairstyling and her husband's cleaver. This February, she joined the cast of Zoetic Schmoetic, the company's first-ever improvisation troupe, for monthly outdoor, socially distanced performances.
Meltzer best summarizes Hacker's appeal in terms that might seem contradictory to their shared passion.
"This might sound kooky, but she realizes at the end of the day, it's just a musical," Meltzer says. "We're not saving humanity. Why I hire her over and over again is because we understand our sense of humor, the tribulations of getting there. We can take a breath, and we trust each other."