Kapow Noodle Bar has partnered with Wente Family Estates to offer an exclusive six-course culinary experience with Chef Angelo Arboleda, featuring vintages from the renowned winemaker. The experience brings together tradition and innovation, with each sip and bite reflecting the passion and craftsmanship of the creators. As a special keepsake, guests will receive a hand-engraved bottle of estate-only Wente GSM, courtesy of Master Calligraphist Carla Hagan. This event is much more than just a dinner; it's a celebration of the art of fine dining and a night to remember. Seating is limited, so reserve your spot now.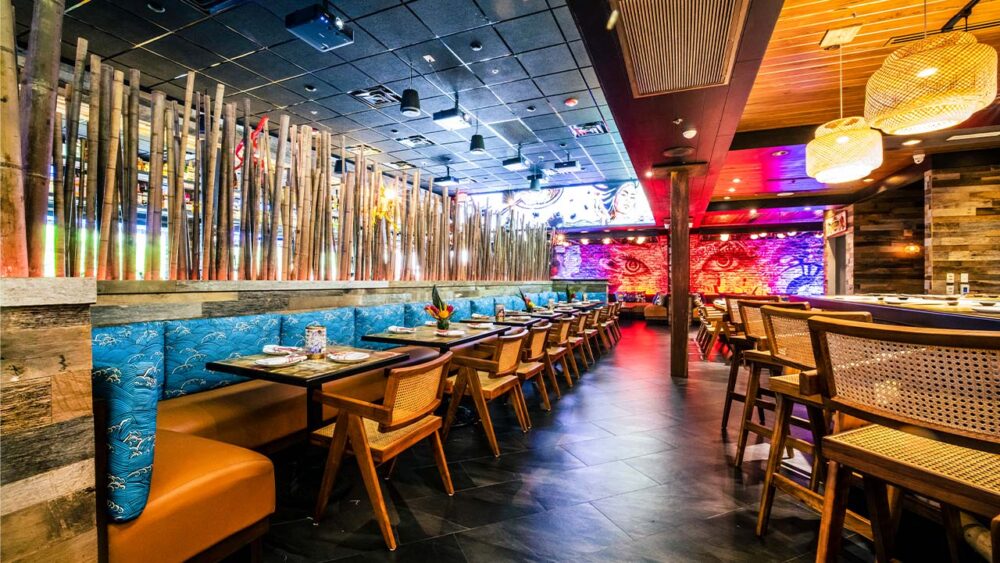 Wednesday, July 26 at 7 pm
519 Clematis St, West Palm Beach | 561.246.3827 ??
Thursday, July 27 at 7 pm
431 Plaza Real, Boca Raton, FL 33432 | 561.3477322
Menu:
Amuse Bouche
Blanchard Perez Cav
Japanese Milk Bread "Canape"Miso Foie Gras Mousse, Compressed Green AppleYuzu Marmalade Brûlée
First Course:
Murrieta's Well Sauvignon Blanc
CITRUS COBIA "CRUDO" Yama Obo, Aji Amarillo, Lime, Crispy Lotus Root
Second Course:
Wente Nth Degree Chardonnay
Seared Scallops & Savory Egg CustardYrawn Stuffed Zucchini Flower, White Soy, Shiso Oil
Third Course:
Angel's Ink Pinot Noir
SQUID INK "MA OER DAO" Cats Ear Udon, BBQ'd Clam, Chinese SausageBroccoli, Chili Butter
Fourth Course:
Wente Nth Degree Cabernet Sauvignon
BINCHOTAN GRILLED BONE MARROW5-Spice Scallion Pancake, Charred Shallot Jam, Blackberry
Fifth Course:
Murieta's Well Red Blend
SMOKED WAGYU BRISKET FRIED RICEWagyu Tallow, Chive Blossom, Fried Quail Egg
Final Couse:
Wente 2021 Artist Series GSM
Chocolate and Coconut Dumplings Matcha Crème, Tart Cherry Relish, Masago Arare
Kapow Noodle Bar was established in 2011 by Vaughan Dugan and Rodney Mayo of Sub-Culture Group. The restaurant blends contemporary Southeast Asian cuisine and a South Florida vibe. Recently, the Boca Raton location moved to a larger space in Mizner Park that merges art, technology, and sustainability. This new location is also home to three private karaoke rooms and an omakase bar, setting the stage for the future of the Kapow brand.
Photo credit: Zack Perl