Ahmet Erkaya remembers the moment when he and his partner, Anastasia Koutsioukis, envisioned the concept that would one day lead them to become two of South Florida's most beloved and celebrated restaurateurs:
"We started dreaming about a Greek and Turkish—an Aegean—restaurant on one of our trips to this island called Paros," he recalls, referring to the increasingly buzzy Cycladic island located little more than 50 miles from Mykonos. They decided to delight diners with their meze and moussaka where summers last longer than winters. "And we stumbled upon this property in Miami, where it is today. The rest is history."
Yet that restaurant, Mandolin Aegean Bistro, was merely the first stop in their epic tale. Since its trademark blue doors opened in the Design District in 2009, Mandolin has been at the top of nearly every dining guide imaginable and recently earned a Bib Gourmand nod from the Michelin Guide. Even today, few, if any, South Florida eateries are able to capture its magic, where diners feel like they are visiting a close friend's house and happened to wander into the backyard to enjoy a casual, delicious meal.
"We look at it as an extension of our home and that actually was one of the success points that served us quite well," Koutsioukis says. She and Erkaya even had their 9-year-old son, Alex, convinced. "Now when he goes to Mandolin, he knows that as his home. I think it was only a year ago that he realized that it was our business."
The couple has debuted additional concepts around Miami since then, including fast casual Mr. Mandolin eateries, a Mrs. Mandolin cafe and bakery, and Mrs. Mandolin lifestyle stores, offering Aegean-centric home goods and pantry items. They also unveiled pop-ups in Los Angeles, Istanbul, Berlin and London. But Koutsioukis and Erkaya remain nostalgic about the origins of their mini-empire. "I think we were so happy to just actually be making a living doing what we love," she says. "Ahmet knew the hardships that come with restaurants and the struggles."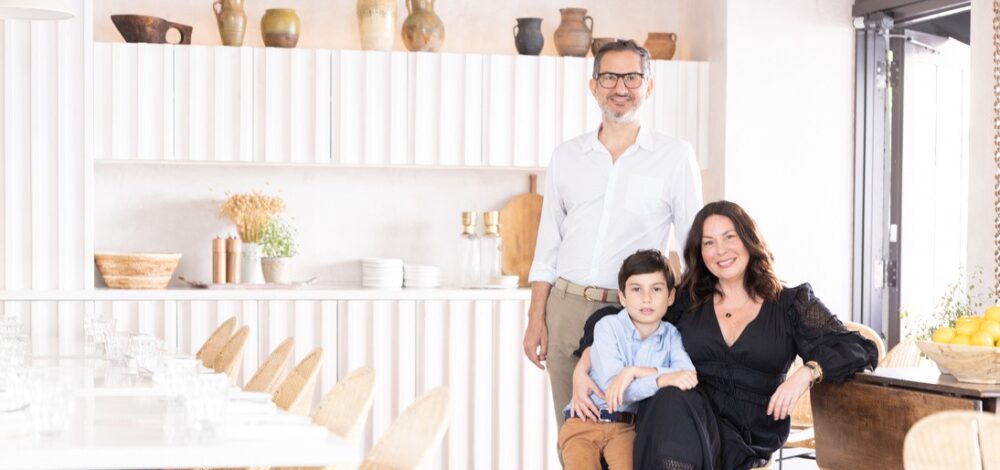 Born to Greek immigrant parents in Toronto, Koutsioukis was raised in Canada, but she headed to New York after college to pursue a career in fashion and beauty. It was there she met Erkaya, who was born and raised in Izmir, Turkey. Though he studied finance, Erkaya ended up in the restaurant business, quickly discovering a new passion. More than a decade later, the two locked eyes in a restaurant he owned. "And we actually connected because we share a lot of similarities from our cultures," she says. "We've had a lot of historical rivalry, right? But we fell in love, and food and wine brought us together."
They wanted their restaurant to be an extension of that love. And after years of what she labels "slow and steady growth," they added tables, then an organic garden, and then a shop in the back: "It kept our customers excited and engaged. It was refreshing to be able to walk to the beat of our own drum. For us, the unconventionality was what people enjoyed and came back for."
Locals and visitors grew to adore the proprietors, who have now been together for nearly two decades. "That's part of our success—of being able to work together and live together—is that we really respect each other's strengths," Koutsioukis says. "Ahmet is the one who has the operational know-how, and so I brought the creativity and design element." She adds, "We really stay in our lane so that it's a distinctive voice. And I think it allows for our team to understand our roles within this."
The couple keeps their personal life private and maintains a routine steeped with boundaries. Ahmet leaves the restaurant every weekday to pick up Alex from school and spend time with him, then they prepare dinner and partake as a family. "We spent the first five years before we had our son entertaining every single day and night," Koutsioukis says, "and it led to our success, but we also were able to pass that kind of style, of hospitality, to our team. And so now they can execute things in the 'Mandolin way.' And whether we're there or not, the food is the same and the hospitality level is the same."
They explain that the secret to their expansion is to support top-notch team members and reallocate them to different locations. This strategy especially came into play during the pandemic, when the duo launched Mr. Mandolin and Mrs. Mandolin cafe and bakery. But they are still searching for perfect freestanding opportunities outside of Miami. "It's really about finding that unique space to recreate the feeling," Koutsioukis explains.
Though not widely publicized, in 2021, Membership Collective Group, the parent company of Soho House, acquired Cipura, the parent company Erkaya and Koutsioukis ran, which gave it ownership of Mandolin. "Our day-to-day hasn't changed," Koutsioukis says. "We're still on as founders and operators and so it allows us to keep the consistency." In the wake of that sale, the couple launched a new hospitality group, which envelops Cyclades Collective, a small-batch Greek wine distribution arm that is Erkaya's passion project.
In 2022, the couple engaged in a "creative design and branding collaboration" to open the Drexel on Miami Beach's famed Espanola Way; the venue showcases Italian and Aegean flavors (from smoked guanciale pizza to lamb chops with tzatziki), is already a hit. And the busy restaurateurs are helping another group open an American bistro in West Palm Beach.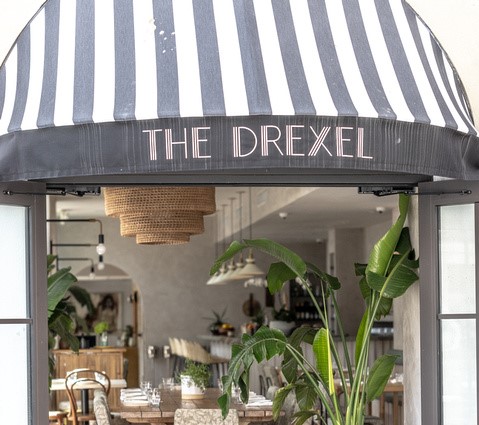 As if that were not enough, they are testing the boundaries of their hospitality comfort zone: The pair purchased a six-room farmhouse in the Greek Islands where they plan to open a luxury inn next summer. "We wanted to be able to recommend a place that really felt like the same spirit that we created: some things set back in time with a sense of authenticity, authentic travel, really revolving around food and wine," she says.
Thus, Koutsioukis and Erkaya are beginning yet again, exactly where they started. But this time they already know the throughline. "Mandolin was such a personal project for us," Koutsioukis says. "It really is a collection of our upbringings and our lifestyle. We basically brought the word 'Aegean' to the American lexicon. Fourteen years ago, this was this was our way of finding that common ground within that beautiful region of the Mediterranean, where the Greek islands meet the Turkish coast. We want to continue to work on that platform we created and showcase the culture in this region in a beautiful way."
Photos by Brett Hufziger