Situated impeccably along Fort Lauderdale's New River off Las Olas Boulevard, Rivertail not only provides scenic water views while dining, its eclectic seafood menu gives patrons a wide range of crustaceans, sea snails, mussels, clams and fish to pair with delightful cocktails. To help narrow the bevy of choices, the eatery recently created its 'Shaken not Stirred' menu offering customized martinis with fresh east coast and west coast oysters.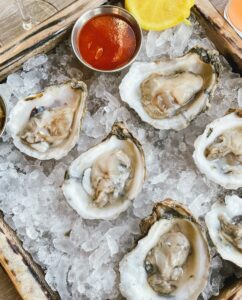 From 7 p.m. to close every Thursday, each customized martini ($15) purchased comes with three briny oysters. For martini lovers seeking different spirits and types, Rivertail allows customers to choose between vodka or gin with dry, dirty, perfect, gimlet or cajun styles topped with a preferred garnish.
Although martinis can feature a sharp kick, a great complement to the cocktail pairing that gets away from the seafood menu is the cornbread with cotija cheese, sesame and a savory honey butter for spreading. While the 5-time James Beard-nominated chef José Mendín certainly knows how to craft a comprehensive and succulent seafood menu, the home comfort dish gives a nice alternative while still generating the delicious flavor.
Carnivore lovers also get their share of choices at the waterfront bistro with New York Strip, Filet Mignon, Angus Skirt Steak and Pork Belly Cuban Sandwich, among the highlights of the non-seafood items. Regardless of your preferred dishes, the diverse and extensive seafood and meat options at Rivertail are sure to meet many preferences, all capped with a personalized martini.