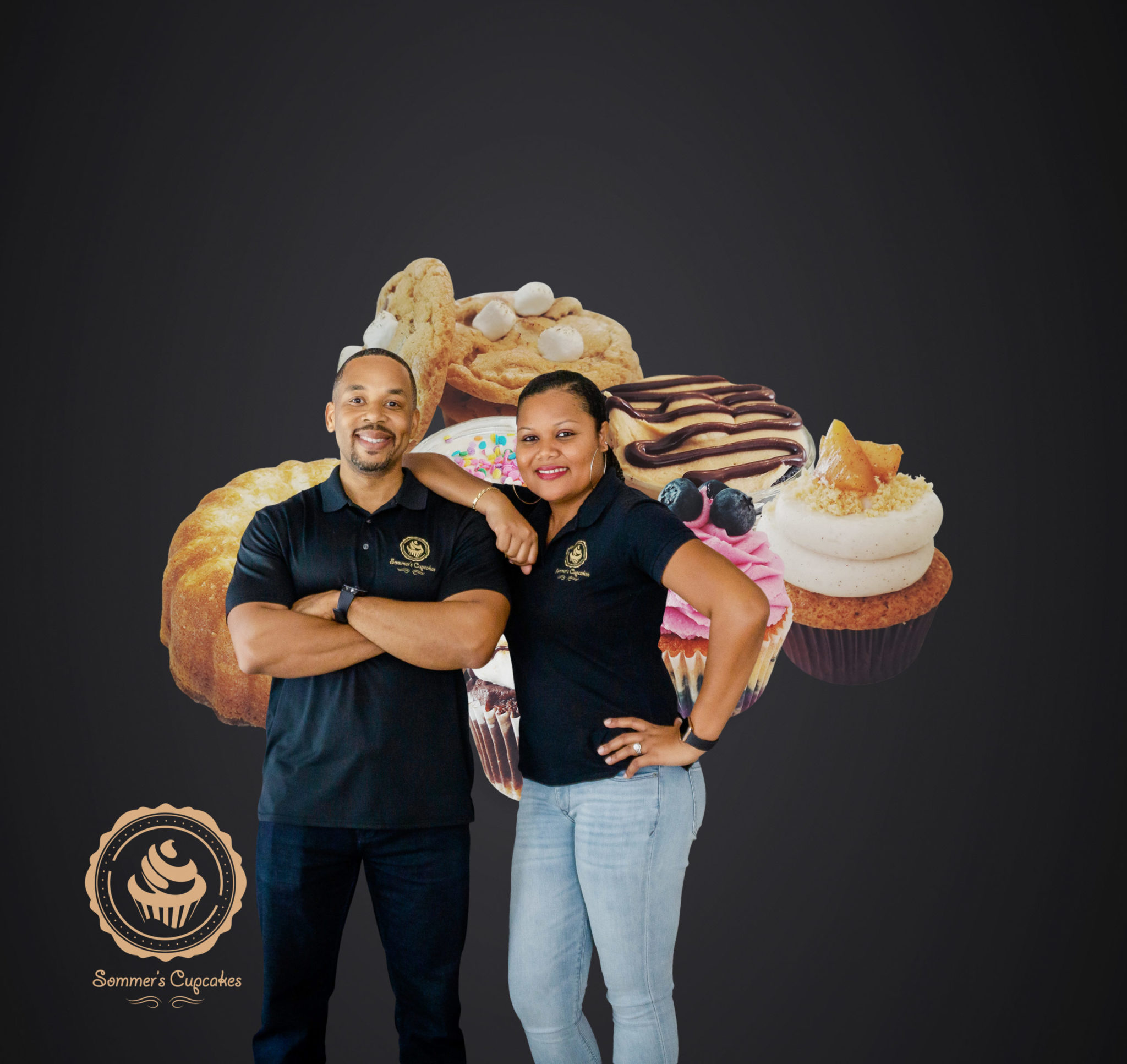 They didn't know it, but Sommer and Lavar Brown had been practicing to run a dessert business for a long time. Lavar, born in the Bahamas, baked sweets with his grandmother and mother from age 7. Trinidad-born Sommer learned to make soul food before she was a teenager.
Still, when Sommer made strawberry cupcakes for their daughter's first birthday, she didn't know a business idea would follow. The response was so overwhelmingly positive, she received purchase orders from multiple guests.
"When it came to managing the business, I knew exactly what I was doing, because I had the educational background," says Sommer, who has a master's in business management. "But as far as baking, I was gravitating toward Lavar, because he was always the one in the kitchen baking sweets."
Baking was familiar territory for Lavar, who also had a marketing business. "We were looking for something that we could actually do together, trying to combine her experience in the business field and my experience in the marketing field," Lavar says. "This was kind of like a light bulb that went off at the time."
In 2013, their teamwork led to Sommer's Cupcakes, a digitally based gourmet cupcake and specialty dessert store. Lavar focuses on baking rum cakes and cookies, plus the advertising and marketing, while Sommer strategizes, brings the ideas to life, and specializes on the cupcake jars. After knowing each other for nearly 20 years, and being married for 11, the two have enjoyed the opportunity to work together and share their craft with their children.
"We're very competitive," Lavar says. "We challenge one another to do better."
Since opening the business, they have catered for birthday parties, car dealerships, weddings, baby showers and more, keeping clients coming back with service that takes customer suggestions and desires into account. In fact, that's one of the compliments they receive most often, in addition to the creativity and flavor of their products.
"We listen to our clients," Lavar says. "We love when they make suggestions regarding what they want to see. When we first started, we had nothing that was vegan or gluten-free, but we had requests. We tried it for the first time, and it went pretty well."
Now, they have a variety of creative options to choose from, imbuing their desserts with the flavors of the Caribbean. Their best-sellers include the red velvet cupcake, coconut rum cake, and peanut butter chocolate fudge cupcake, which sold close to 60 dozen one year—half those orders coming from a customer who ordered it for every party.
This year, the Browns are looking forward to setting up shop and opening a location where clients can interact with them in person, pick up orders and taste their treats.
"Knowing that what we're doing is making other people happy is one of the best feelings there is," Sommer says. "Our product is literally made from scratch, made with love, we don't put any additives or preservatives in our product—we keep it traditional; that's why our product is loved."
Sommer's Cupcakes
Social: @sommerscupcakes on Instagram and Twitter; @sommerscupcakesfl on Facebook
Web: sommerscupcakes.net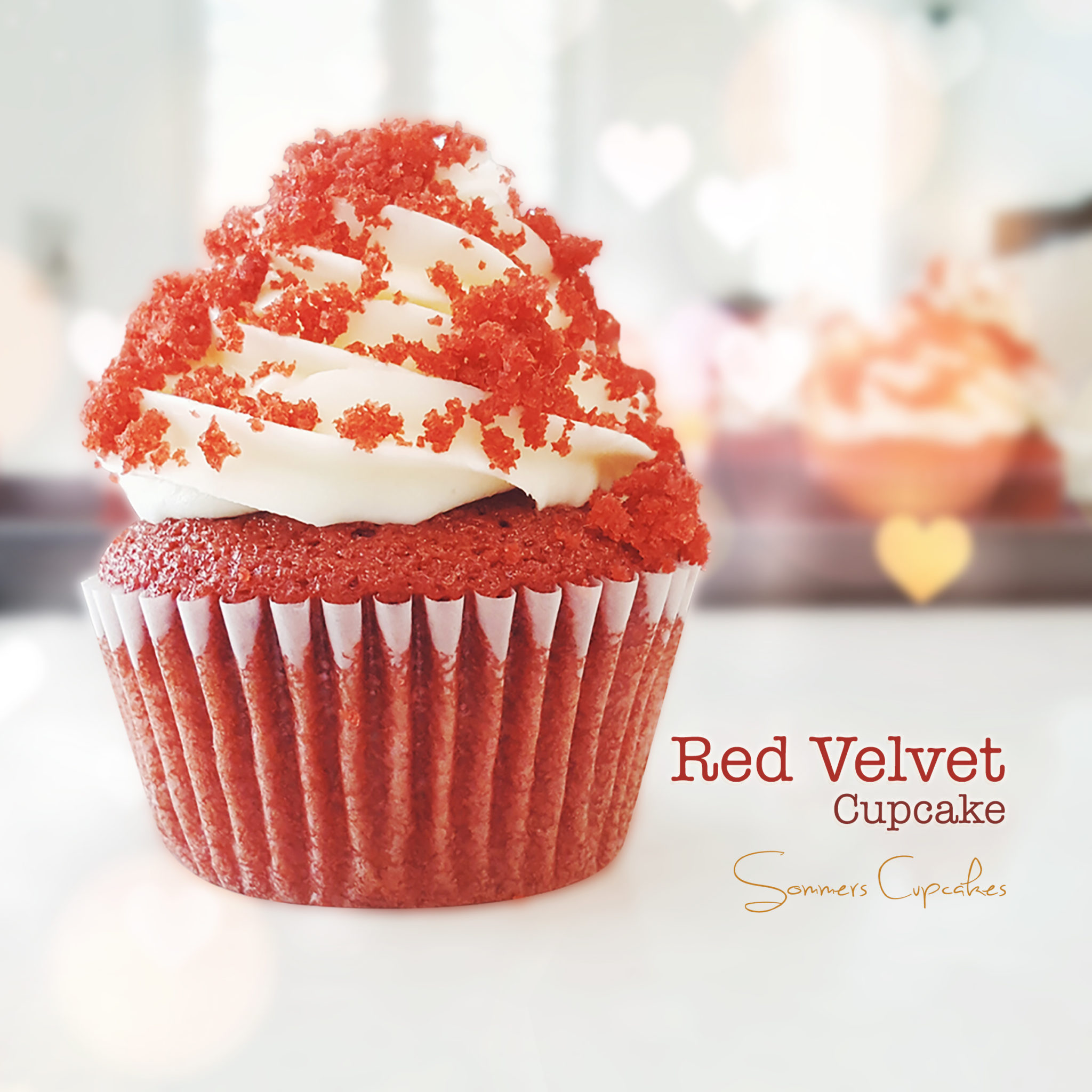 Cupcake Love
Sommer and Lavar shared this red velvet cupcake recipe, featuring their signature cream cheese frosting—a perfect treat for Valentine's Day.
Cupcake Ingredients
2½  cups flour
½    cup unsweetened cocoa powder
1      teaspoon baking soda
½   teaspoon salt
1    cup butter (room temperature)
4 eggs (room temperature)
1 cup sour cream
½ cup milk (room temperature)
1 ounce red food coloring
2 teaspoons vanilla extract
Cream Cheese Frosting Ingredients
8 ounce package cream cheese (softened)
¼ cup butter, softened
2 tablespoons sour cream
2 teaspoons pure vanilla extract
16 ounce box confectioners' sugar
Cupcake Directions
1. Heat oven to 350 degrees. Mix flour, cocoa powder, baking soda and salt in medium bowl. Set aside.
2. Beat butter and sugar in large bowl with electric mixer on medium speed for 5 minutes or until light and fluffy. Beat in eggs, one at a time. Mix in sour cream, milk, food coloring and vanilla extract. Gradually beat in flour mixture on low speed until just blended. Do not overbeat. Spoon batter into 30 paper-lined muffin cups, filling each cup 2/3 full.
3. Bake 20 minutes or until toothpick inserted into cupcake comes out clean. Cool in pans on wire rack for 5 minutes. Remove from pans; cool completely. Frost with cream cheese frosting.
Frosting Directions
Beat cream cheese, softened butter, sour cream and vanilla extract in large bowl until light and fluffy. Gradually beat in confectioners' sugar until smooth. Pipe and garnish with crumbs from cupcake.