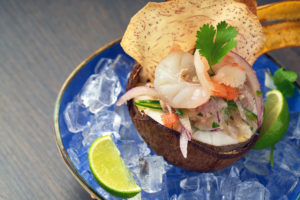 Where: 999 N. Fort Lauderdale Beach Blvd., Fort Lauderdale
Phone: 954.302.5252
Website: steelpanftl.com
Taste of the islands: The recent renovations at Sonesta Fort Lauderdale Beach didn't end with updated spaces like the pool area and fitness center. The resort also added Steelpan, a new Caribbean-American destination that's heavy on beachfront ambience and island-inspired spins on South Florida menu favorites, the latter courtesy of chef Kevin Baker, a native of St. Thomas, Jamaica and former sous chef at The Foundry in Pompano Beach.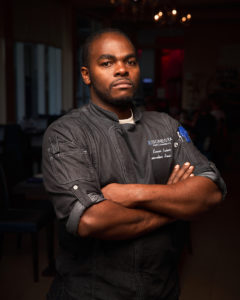 Flavor fusions: Baker pairs herbs and spices from the islands with fresh local ingredients in starters, light bites and entrees throughout the menu. "[The dishes are] from my head and my heart—and my grandmother back home," he says of offerings like Calypso shrimp pasta with sautéed shrimp, shallots, tomatoes and spinach in a white garlic sauce; or the coconut shell ceviche with shrimp, fresh fish, coco malanga crispy chips and sea salt.
Drink up: Steelpan has a full menu of handcrafted cocktails, including the Coco Loco with Mount Gay rum, cream of coconut, pineapple and orange juice [pictured above]; and the Steel Punch with Zacapa aged rum, fresh lime juice, simple syrup and bitters. The daily happy hour (4 to 7 p.m.) features 40-percent discounts on cocktails, beer, and wine by the glass; and $7 items on the Beach Bites menu.
Something for everyone: Baker notes that the trend toward healthy dining influenced the menu at Steelpan. To that end, the restaurant offers vegan and vegetarian options, including yucca fries, the vegetarian Impossible Burger, and a whole snapper wrapped in banana leaf and served with mixed potatoes and quick-pickled vegetables.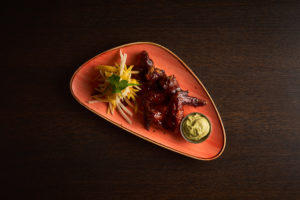 Winging it: Nowhere are Baker's hometown influences more evident than in the Caribbean jerk wings, which are marinated for eight hours in rice wine vinegar, soy sauce and dark brown sugar before being roasted enough to give them some crispiness. From there, the wings are lightly tossed in jerk barbecue sauce and finished on the grill. They are served with a papaya and jicama slaw with a side of sweet poblano crema.
What's in a Name
The outdoor patio seating and full bar at Steelpan is part of the draw, along with live music every Wednesday and Friday from 5 to 8 p.m., and every Saturday from 6 to 9 p.m. As an ode to the restaurant's name, musicians are known to play the steelpan, the instrument made from an industrial drum that originated in Trinidad and Tobago.