Less than a decade ago, Marshall Hendrickson graduated college, packed his bags and jetted off to Colombia. As he worked to become fluent in Spanish, Hendrickson scored a job at Bogota Beer Co., bottling beer and cleaning kegs at the city's first craft brewery.
After a promotion to assistant brewer, Bogota Beer's founder, Berny Silberwasser, asked Hendrickson to move to Panama to launch his new brewery, La Rana Dorada. After three years in Panama, Hendrickson had no intention of ever moving back to the United States––until Silberwasser gave him the opportunity to open a Latin-inspired brewery in Miami's Wynwood neighborhood.
"I've always had this budding passion for beer," Hendrickson says. "I was a home brewer for years. When the concept in Wynwood came up, it was too unique to pass up."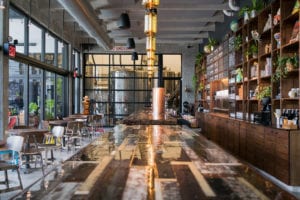 When Hendrickson arrived in Miami, the property where Veza Sur Brewing Co. sits was overrun by thick palms and mango trees. Hendrickson and co-founders Max-Antonio Burger and Asbjorn Gerlach built the structure from scratch, designing every square inch. During construction, the team experimented with brewing methods, slowly putting together what would become Veza Sur's lineup of signature beers.
"We opened our first pint of beer in August 2017," Hendrickson says. "It's been a tremendous almost two years. We spent more time building than being open, but it was all worth it."
As Wynwood's craft brewery scene skyrockets, Veza Sur brings a fresh feel to the neighborhood, which is home to a number of breweries, among them J. Wakefield, Wynwood Brewing Co. and Concrete Beach Brewery.
"We've spent so much of our lives in Latin America," Hendrickson explains, "so every beer we make, we try to incorporate those experiences into it. Whether it's infusing mango, Colombian coffee, or the Colombian fruit lulo into different brews, we're trying to have fun with it and relate it back."
Veza Sur's beers range from craft lagers and Indian pale ales, to sours and the Brazilian chopp (pronounced schoh-pee), a frothy, ice-cold, crisp lager.
"Almost every time we look to make a new beer, we start with some sort of fruit, vegetable or spice from Latin America," Hendrickson says. "There's still so many concepts we haven't explored yet, like making beers with grains, potatoes or indigenous corns. Right now, we actually have beer aging in tequila barrels."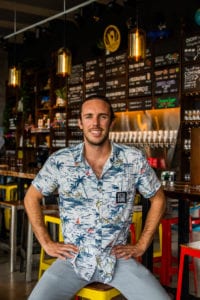 As one of the fastest-growing breweries in Miami, Veza Sur sells draft beer from Key West to Orlando and Tampa. It also recently launched bottles in South Florida retail stores, including Publix, Total Wine and select gas stations.
"Consumers have a lot of choices, but we're noticing folks really gravitate toward Veza Sur," Hendrickson says. "Eventually, we'd love to roll out outside of South Florida, maybe up to Jacksonville, Gainesville and that whole northern part of Florida within the next six to 12 months."
As Hendrickson looks toward expansion, he's adamant that Veza Sur's tap room will always remain the heart of the operation.
"That's the soul of the Veza Sur experience," he says. "Someone can come in and try all 20 beers on tap. They can also take a brewery tour and eat great food from Chi-Fa, our on-site food truck. Miami is our bread and butter, and this city resonates the most with what we're doing. We've put our flag firmly in the ground here."