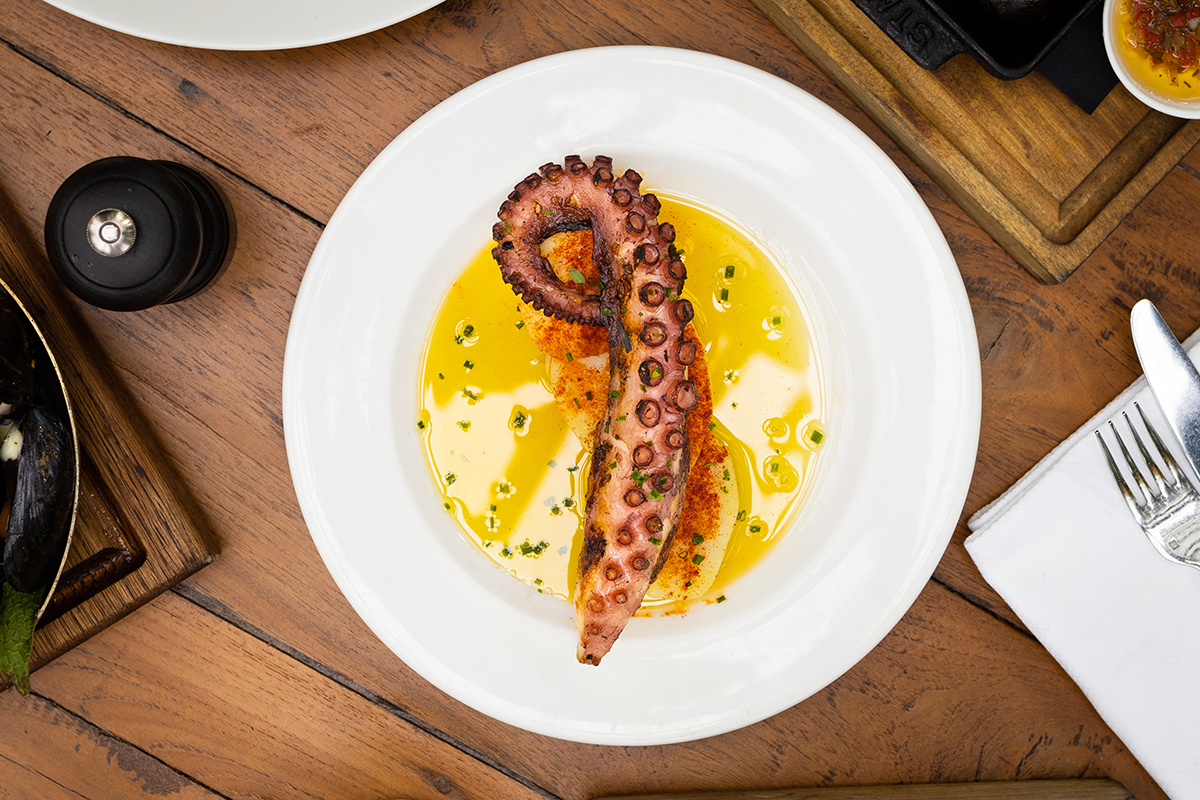 5 Things to Know About: Quinto La Huella
Just like its sister restaurant in Uruguay, this flavor-rich gem at East Miami keeps it simple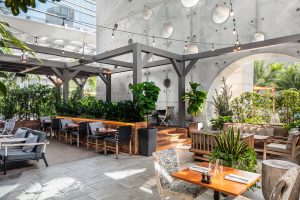 Plain truth: As chic aesthetics go, Quinto La Huella does its host hotel proud. The fine dining experience at East Miami dazzles with understated splendor—earthy décor, warm woods, natural stone elements and a richly landscaped setting for outdoor diners. It's striking without being pretentious. The same, it turns out, can be said for the cuisine. Under the supervision of Mike Roemhild, executive chef for everything food-related at East Miami, Quinto La Huella stirs the senses without bells and whistles. "There are no micro-greens, no edible flowers on your plate," Roemhild explains. "We keep it simple."
Sister act: So, what exactly does that mean in terms of the menu? It helps to know that Quinto La Huella is the Miami incarnation of Parador La Huella, a popular beachfront restaurant in Uruguay near the upscale town of José Ignacio. The area might recall a South American version of the Hamptons, but there's nothing fancy about how the meat and seafood dishes are prepared in Uruguay. At Quinto, a little salt and pepper go a long way. The difference isn't in the spice rack—it's what lies beneath the grill grates.
Ember tales: Steaks, chicken, catches of the day and even sweetbread feels the heat on Quinto La Huella's open-fire parrilla. In this expansive spin on the coveted grilling device, fireplace-sized logs are torched at extreme temperature. Chunks of the wood, retaining a bright orange glow, ultimately break off and tumble into an elongated pit—where they're spread out under the grates to ensure balanced heating. This captures the essence of the product in all its natural, juicy splendor. "It's a more consistent heat, and it doesn't burn the steak or fish with flames," says Roemhild, the native of Germany whose restaurant background includes five-star hotels in Europe. "It's different than any other wood-fired grill."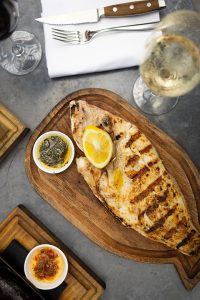 The menu: Quinto replicates much of the Parador La Huella menu, but with more options, especially on the steak side. The 20-ounce bone-in rib-eye and 14-ounce New York strip are among the stars—along with a fork-tender 12-ounce skirt steak that holds its moist flavor from one end to the other. Rack of lamb (prepped, of course, with salt and pepper) is sourced from New Zealand, preserving just enough gaminess to enhance the taste instead of overwhelming it. On the fish side, the half-snapper, a traditional dish in Uruguay, is sliced along the spine and delivered with chimichurri sauce and charred lemon. The butterflied Mediterranean sea bass also soars on the parrilla.
Don't miss: More than a dozen starters (including Prince Edward Island mussels, goat-cheese quiche, and grilled sausage and blood sausage) provide shared-plate opportunities. Instead of using leftover ground beef, the empanadas at Quinto feature hand-cut beef specially sourced for the dish. Grilled and wonderfully tender octopus (served on a bed of potatoes confit), the best-selling item in the restaurant, once again goes back to the basics. "You'll see Michelin-starred chefs try to reinvent the wheel with octopus," Roemhild says. "Ours is straight-up steamed. No salt. No marinade. No hocus-pocus. We focus on the natural flavors. … That's the key. Keep it simple. It's just octopus. Don't mess with it."