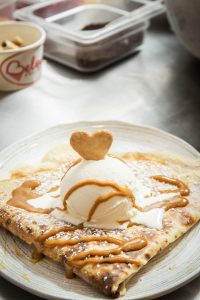 Luisa Castillo jokes that she sometimes wears heels to seem older than she is. It's hard for some people to believe the 24-year-old owns Belove Creamery in Coconut Creek.
But it's actually not the first time she's taken a walk on the sweet side and launched a business. In her native Colombia, she worked at her parents' frozen yogurt chain, where she found a passion for creating products that make customers smile. By age 21, she opened her own place, Nitric Ice Cream and Cocktails, and was recognized by Facebook as part of its She Means Business project.
While a student at Universidad de la Sabana, Castillo moved to the United States to take advantage of an opportunity to receive a master's degree in entrepreneurial management at Barry University, as part of an agreement between the universities.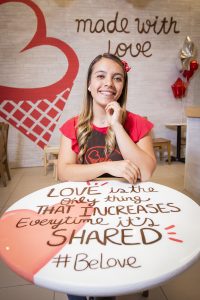 Her final project for the master's was also her passion project: a business plan for Belove Creamery. She created the logo and brainstormed menu items. When she graduated in May 2017, Castillo worked for a year with an event company in Miami. But when she came home from the 9-to-5 grind, she worked on making Belove a reality.
She recruited her parents to help her get started, and the search for the right family environment led them to Coconut Creek, where they now live. There, they transformed a former popsicle shop into a white-and-red sweet stop that communicates love, happiness and gratitude with its menu and decorative details: among them, a chalkboard menu and hand-painted tables with inspirational phrases written in Castillo's own hand, such as "Let your light shine" and "Be a seeker of everyday magic."
"My favorite is, 'Love is the only thing that increases every time it's shared,' " Castillo says. "That's what we wanted to communicate—to share moments together because, right now, we are in a society where we are super consumed by technology. … That's what we wanted to create here: a place where families and friends can come and share a moment together."
The store reflects her personality and her family's values. Through Belove, Castillo wants to encourage customers to "be love" and share love through creative presentations of ice cream and other treats.
"We're really into [showing] love to others to see how we can help others in daily life, so I wanted to reflect that to people," Castillo says. "Because love is, for me, the most important thing in the world. If you love your neighbor, if you love your friends, if you love your relatives, you are going to be happy and you're going to make them happy."
At Belove, happiness is in the menu. The ice cream is made with liquid nitrogen, which quickly freezes the liquid base of milk, sugar and stabilizers and creates a product that is creamier than regular ice cream. The resulting vapor also entertains customers, who may customize their ice cream by choosing a bowl, cup or waffle cone, and toppings to go with the flavors: salted caramel, cookies and cream, Nutella crunch, red berries and vanilla.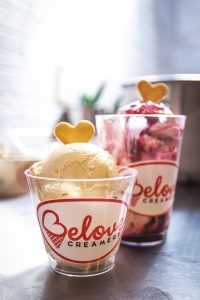 Those looking for a special can try one of Belove's Top 5, such as Nutella Bliss with Nutella ice cream, Nutella sauce and a brownie (baked by her brother). Specialties include the Belove Waffle, featuring the word "love" created in chocolate, and ice cream pies, with ice cream filling in a graham cracker crust.
Given her drive, it's no surprise that Castillo has big plans for Belove. She wants to franchise it someday, sell ice cream pies and liters of ice cream in stores, and host events. For now, she's dedicated full-time to her labor of love.
"If you work hard, dreams come true. They really do," Castillo says. "If you do everything with love, it will always have a good result."
Photos by Eduardo Schneider